New Touch Summer League in Norwich
England Touch Association welcomes its latest member,
Norwich Rebels Touch.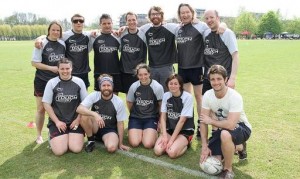 The 2013 season will see the Norwich Rebels - in association with England Touch Association (ETA) - organise a social Touch league in the Norwich area.  Full details about the Norwich Rebels can be found on their dedicated Rebels website.  An outline of how you can get involved with Touch leagues in the Norwich area this can be summarised as:
Open to teams based in or around Norwich
The league will be open, which means  mixed, all womens and all mens teams compete together – a handicapping points system will apply *
Starting in late May and running for 8 weeks. See timing plan for further details.
Games to be played on Sunday mornings at 10:00 and 11:00**
Games of two 20 min halves
3 points for a win, 1 for a draw
Teams of 14 players. 6 on the pitch with rolling subs
Entry fee £12 per team – Payable to ETA
Each team must  nominate at least one referee ***
Teams will play each other twice during the league (once at home and once away)
Nominated referees can receive informal training at Norwich Rebels weekly Tuesday evening training sessions at Eaton Park Norwich during April and May 2013
Any players new to Touch, or anyone wanting to brush up their skills and fitness levels before the league starts are also welcome to attend Norwich Rebels training sessions
Played to Federation of International Touch rules
Teams must wear a team shirt or bib (preferably numbered)
There are two Touch pitches at Eaton Park Norwich which can be used by teams without their own grounds for home games. A booking system will apply ****.
* Mixed teams must have a least one player of each gender on the pitch at all times. All male teams playing mixed teams will start each game with minus 2 tries. All male teams playing all women teams will start with minus 4 tries. Mixed teams playing all women teams will start with minus 2 tries.
** Or on another day/time agreed between both teams and the nominated referee
*** Referees will not officiate games in which their own team is playing
**** There will be a £10 charge per home team per match played at Eaton Park to cover line marking costs.
For further details, to register your team's interest, or obtain an application form:
Email: 
Contact@Norwichrebels.com
- We are England Touch.