Sports Nutrition for Touch
"You wouldn't put diesel in your Ferrari, right?"
 A previous England Touch news article on the subject of 'Sports Nutrition for Touch' was written by Jessica Pulley, a registered dietician, and was published by the ETA last year.
Have you heeded Jessica's advice?  How is your nutritional plan today?
England Touch interviewed England Women's Open player and South East Taipans regional Touch lead, Marnie Wills, to ask her how she prepares her diet for Touch.
1. What do you eat for a regular Touch training day?  
"Scrambled eggs on toast for breakfast.  I snack on pieces of chicken, fruit and depending on the length of the training I will have a protein shake after the session."
2.  Do you believe eating the right food is important & how strict is your diet?
"I believe that eating the right foods pre/post training and for tournaments is very important.  My body type requires me to watch what I eat - a lot.  If I need to trim down before a big national or international tournament I will cut carbohydrates, sugars, caffeine and alcohol.  I am however aware of the need to 'carbo' load about 5 days out from tournaments so that I have enough glycogen storage in my muscles.  It is really important to make sure your body is always fuelled enough to sustain your activity levels.  The more active you are the more food you need to eat.  I have recently learned the importance of eating breakfast every day, for many years I neglected eating a good breakfast as I just 'didn't have time'."
3.  What is a typical pre-Touch Tournament meal?
"My favourite meal before a tournament is spaghetti Bolognese for dinner, scrambled or poached eggs for brekkie and plenty of water." 
4. After a tournament (e.g. the European Championships in 2012), what foods to you eat to fuel your recovery?
 "This is a hard one as the focus at the end of a tournament is on celebrating our successes, therefore the alcoholic beverages roll out and refueling the body is almost forgotten.  However, it is best to replenish the body with a high protein meal."
5. Have you got any food related guilty pleasures & how often do you allow yourself to indulge??
"I have to be honest, I am a CHOCO-holic.  As I am currently only 3months out from an international event I am on an eating plan that only allows me one cheat day a week, this is usually a Friday as that's when all the sweets come out at work."  
ETA:  Thank you to Marnie for her honest nutrition appraisal, there's much to be digested there! -- We are England Touch.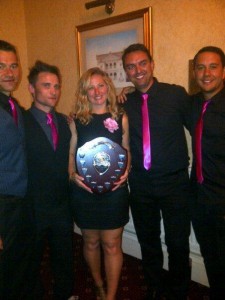 Marnie Wills (pictured centre) - With her club side London Galaxy, winning the overall NTS trophy in 2012.