Elite Men's and Women's NTS R2 preview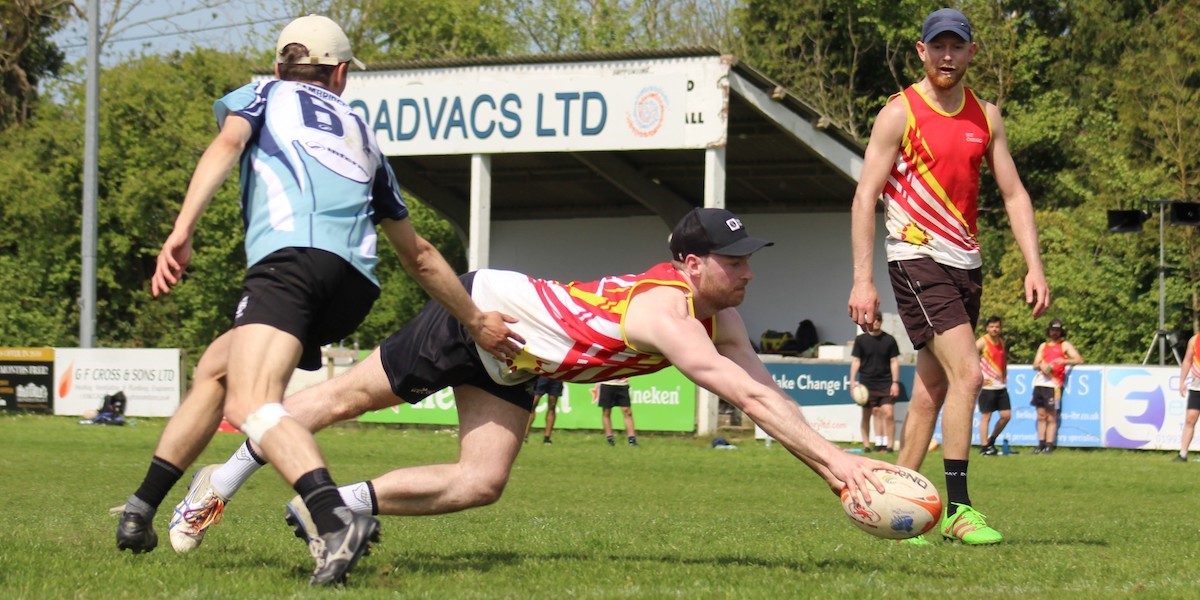 The Elite Men's and Women's National Touch Series will step up several notches on Sunday when the teams head to Burton RFC in the north Midlands. James Warrener looks ahead to the action.
With six pitches and both pool and knockout series matches to conclude, there will be great action all day with live streaming of pitch 1, which will cover both Womens and Mens key pool matches along with the plate and main finals. 
CLICK HERE for the full schedule
Burton RFC is the latest new venue to welcome the National Touch Series. The club moved into its site just a few months ago, with freshly-laid pitches and a brand new clubhouse welcoming the 22 teams on Sunday and 28 teams in Saturday's Development MW NTS.
Mens Cup 
Pool A is close to being an all London affair. We have Scorpions (winners in Round 1), Eagles and Galaxy, broken up by Old Wesley, who will be looking to get the measure of teams from England's capital. In the first round of the series Scorpions crossed the line 28 times in three pool matches so action is pretty much guaranteed when they take the field.
In Pool B, Wigan Warriors will be looking to emulate their Rugby League team, who have recently made their Challenge Cup final, and keeping the feel good factor going for the Cherry and Whites. They have Hot Custard, NQ Rebels (runners up in round 1) and Raptors to beat to be sure of getting out of the pool stages. 
Rebels were comfortably beaten by the rampant Scorpions in the final of Round 1 but were undefeated in the pool stages and it will be interesting to see how they bounce back and if the same two clubs make the final.
Pool A - London Scorpions, London Eagles, Galaxy London, Old Wesley Touch
Pool B - NQ Rebels, Wigan Warriors, Hot Custard, Raptors
Mens Bowl
There is a Varsity city clash in the men's bowl with Oxford and Cambridge facing off at 1320 on pitch 5. With both seats of learning taking a win on the boat race last month (Men Oxford, Women Cambridge) let's see if they can be split and some bragging rights gained in Touch. 
Two other famous English historical cities make up that pool with Canterbury and Nottingham taking the pitch and looking to make progress in the competition. 
Bowl Pool - Cambridge, Oxford, Canterbury, Nottingham 
Women's Cup 
Two pools of three make up the Women's Cup series. Pool A sees NQ  Rebels and Raptors join Nottingham with Pool B an all Southern affair with London's Eagles and Scorpions tapping off with Thames Valley Vikings.
NQ Rebels won the Cup in Oxford last time out, beating both Scorpions and Eagles in the round-robin afternoon matches, but with the latter stages in Burton reverting to a knockout format then the tension will be ratcheted up!
Pool A - NQ Rebels, Nottingham, Raptors
Pool B -  London Eagles, London Scorpions, Thames Valley Vikings
Womens Plate
This series sees teams from Cambridge, London Galaxy, Old Wesley and Hot Custard take each other on.
This Plate final will pitch the pool winner with the winner of the Cup groupings play off. It will be at 1545 on pitch 3. 
Plate Pool - Cambridge, Galaxy London, Old Wesley Touch, Hot Custard