Emma Cropper's reflections on a dynamic decade of development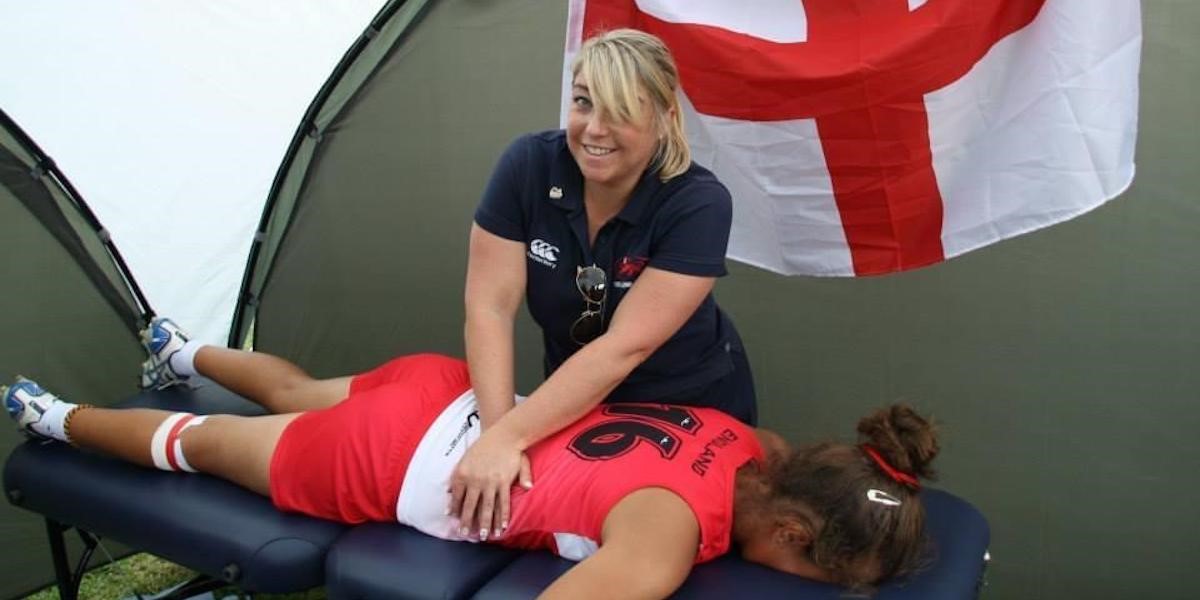 Emma Cropper has stepped down from her position as England Touch's Head Physiotherapist after nearly a decade's direct involvement in the sport, including undertaking research which has highlighted the injuries encountered within tournaments.
When I first started in Touch nine years ago myself and Cari [Thorpe, Head of Medical and Sports Science] thought it was going to be an easy job! Over the years the role as Head Physiotherapist grew from spending hours taping up players and keeping them on the pitch, with volunteer physios committing to one tournament at a time, to being part of professional and multi-disciplinary team, managing the health and wellbeing of over 200 players in the build-up and during an international tournament. This role also extended to supporting Cari planning and organising the medical team, including team training.
As my role developed, and the team became both more professional and more strategic, we began to look at how to minimise injuries rather than simply manage them. This idea led me to sign up to do my PhD investigating the injuries sustained in Touch as this was largely unknown at the time.
With the increasing participation and countries attending international tournaments, there became greater scope for multi-country research on the 'typical' injuries observed that could enhance the knowledge of medical teams.
My first PhD study included collecting data on the severity type and mechanisms of injuries sustained at the elite level during the 2016 European Championships. Both the England Touch management and players were positive towards the study and interested to know the findings.
The first study identified that the majority of injuries were as suspected, soft tissue (muscle strains), occurring during running-based activities and more frequently to players in the middle position. Injuries appeared to be related to fatigue with injuries predominantly in the second half of games, and the number reported increasing as the tournament progressed.
This led to the subsequent study carrying out injury surveillance in the domestic Touch season. Findings from this study identified that, although the type of injuries sustained were similar to elite players, the timing of injuries was different. Inadequate player preparation time and appropriate warm-up time appear to have a potential role in injury risk in the domestic season, with injuries predominantly occurring in the first few games of a tournament. 
Over the past two years my focus has been more on my family and my role as Senior Lecturer and Course Leader for the Physiotherapy course at Huddersfield University. This has meant that I have had less time to be involved in Touch, and with my husband playing and working in Touch, I haven't been able to travel away as much. 
However, I will be continuing my research within the Touch community, having published my first research article from my PhD regarding injury surveillance in an international tournament, and currently in the process of publishing my findings on injury surveillance in a domestic season. I have further research to undertake and with strong connections to the medical team I won't be disappearing off the Touch scene! 
I am very proud to have been part of a medical team, which despite being voluntary has grown in both size, professionalism and the breadth of disciplines being utilised, such as Medicine, Strength and Conditioning, Psychology and Physiotherapy. 
I believe that Touch's sport and medical team rivals those in professional sport, and I hope that my research inform the Touch medical teams in the future.