2019 #OneEngland Awards handed out at Twickenham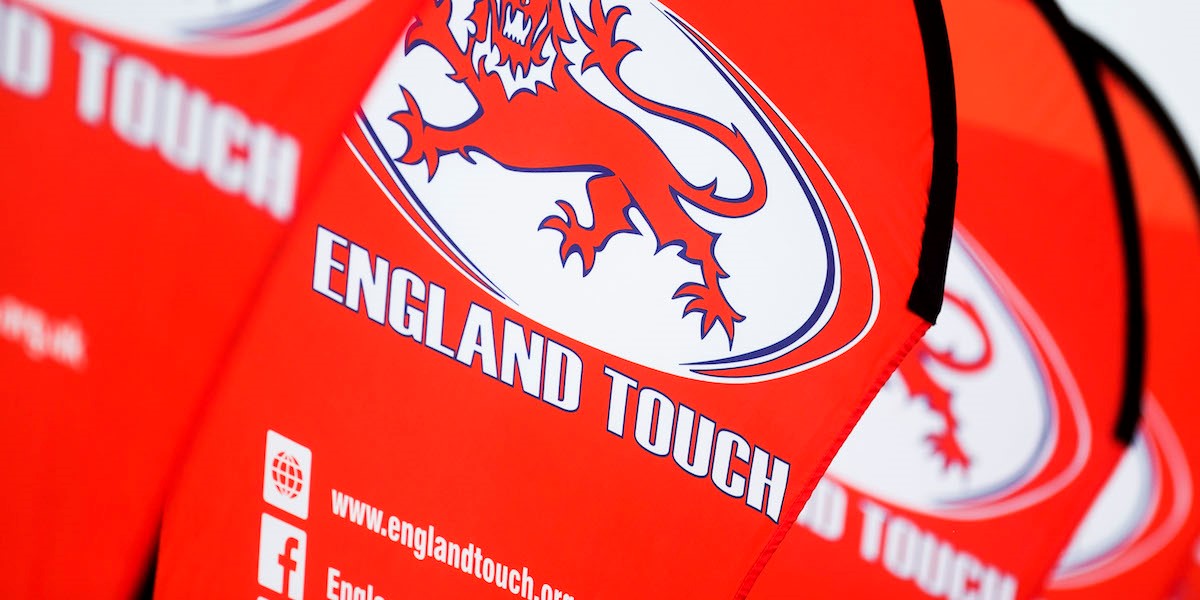 England Touch has been celebrating a memorable year at Twickenham this weekend, with the 2019 #OneEngland Awards handed out at a special dinner at the home of England Rugby.
Club of the Year is Nottingham, who achieved a best ever finish in the Elite National Touch Series – second overall – and continues to provide a stream of players into representative and England teams across the categories. Nottingham has also maintained their high standards of growing Touch across the city and beyond and is a hub for the East Midlands.
Sports Achiever of the Year is Exeter's Matt Mahoney, who overcame two corrective hip operations before he was 30 and significant illness to fight his way back and represent England Men's 35s at the 2019 Touch World Cup.
Volunteer of the Year was shared between Pippa Bourke and Max Raymond.
Pippa has transformed the management and logistics of England's High Performance department, underpinning the 10 teams of players, coaches and staff. This was especially so with the World Cup, where from start to finish she was instrumental in providing the support for England to achieve outstanding results.
Not content with just setting up and growing Peterborough Touch Club, Max has gone on to establish the Midlands Regional Winter Development League, which is giving clubs from across the area the opportunity to compete and develop throughout the year. Max also plays a crucial role in the growth of youth Touch in the Midlands area.
A Special Recognition Award was given to Cari Thorpe, recognising her work as Head of Medical, Sports Science and Performance over the last eight years. In that time Cari has professionalised this area of England Touch's operations so much so that it rivals many professional sports clubs. She has undertaken cutting edge research into the specific needs of Touch players to improve preparation and prevent injuries, and put together a team of nearly 20 physios, sports scientists, doctors and psychologists for the World Cup.
Alastair Chadwick was named Coach of the Year, reward for a first year leading Manchester Chargers which saw the club win the Development National Touch Series and provide an increasing number of players into the representative pathway.
Referee of the Year is Gareth Hinds, who was both one of England's representatives at the Touch World Cup and has gone on to develop officials throughout the year across the country.
Kevin Hattersley receives the Inspiring Others Award for his tireless work in growing age group Touch across the north west, working with a number of clubs six days each week and then managing the North-West Blades junior categories for The Nationals. Participation in the region has increased and more players from the North West are representing England at the Junior Touch Championships.
The Young Leader of the Year has gone to CSSC's Evan Michaels, who despite living in Essex travels all the way to South London to train with the Eagles three times a week. Still in his teens, Evan was a key player in helping CSSC London Eagles achieve their best ever finish in the Elite National Touch Series, before going on to help South East Sharks Men's Open win The Nationals and captaining England's Boys' 18s to their Junior Touch Championships gold medal.
The Unsung Hero Award was shared between Aisling Musgrove and Julian Gilding.
Aisling joined the Events team at the start of the year with responsibility for the Development National Touch Series and Emerging Men's and Women's National Touch Series. Regularly having to find teams to replace late drop-outs, Aisling spent extra time away from home to travel to venues the night before to ensure that everything would be ready and the tournament would run smoothly – which they did!
Julian has taken Crewe and Nantwich from a start-up club to one which is now among England's fastest growing outfits with a massive amount of potential. He is at every National Touch Series event, and travelled to Paris to support the club's many juniors among England's four Junior Touch Championships teams; indeed Crewe and Nantwich's representation at the tournament is down to Julian's hard work in the area.
"All of the winners deserve the congratulations and pats on the back which will be coming their way and they have contributed massively over the last year - sometimes years - whether at developing Touch in their area or England Touch as an Association," says England Touch Chief Operating Officer Gregg Cropper. "Either way the sport would be the poorer were they not involved.
"It also speaks volumes that any of the people shortlisted would have deserved to win in their own right. England Touch and Touch as a sport has grown massively and now encompasses a wide range of areas of operation and thousands of players up and down the country, whether at a social, development, National Touch Series or representative level.
"I'm delighted for all of them and we're all looking forward to bigger and better things in 2020 and beyond!"
WINNERS ROLL OF HONOUR
Volunteer of the Year – Pippa Bourke and Max Raymond
Also shortlisted – Chris Simon, David Jeffs, Neil Guess, Sion Atkins
Club of the Year – Nottingham Touch Club
Also shortlisted – Bournemouth Touch Centre, Cambridge Touch Association, Chester Cheetahs, CSSC London Eagles, G:Force, Manchester Chargers, Revolution
Coach of the Year – Alastair Chadwick
Also shortlisted – Andy Penniceard, Dan Wines, Gary Lambert, Jon Weston-Stanley, Kevin Hattersley
Inspiring Others Award – Kevin Hattersley
Also shortlisted – Chris Simon, Lynne Cantwell, Marnie Wills
Referee of the Year – Gareth Hinds
Also shortlisted – Jordi Bitlloch, Gen Mitchell
Special Recognition – Cari Thorpe
Also shortlisted – Ben Powell, Chris Simon, Chris Wearmouth, Rebecca Maxwell, Robin Budd
Young leader of the year – Evan Michaels
Also shortlisted – Emily Simon, Emma Oliver, Flori Nasir, Nathan Power
Sports Achiever of the Year – Matt Mahoney
Also shortlisted – Dom Tripp, Ellis Povey, Evan Michaels, Josh Henderson, Zoe Parish
Unsung Hero – Aisling Musgrove and Julian Gilding
Also shortlisted – Adrian Twigg, Ken Pollard, Nick Heath