Bath Hawks get their revenge in Cambridge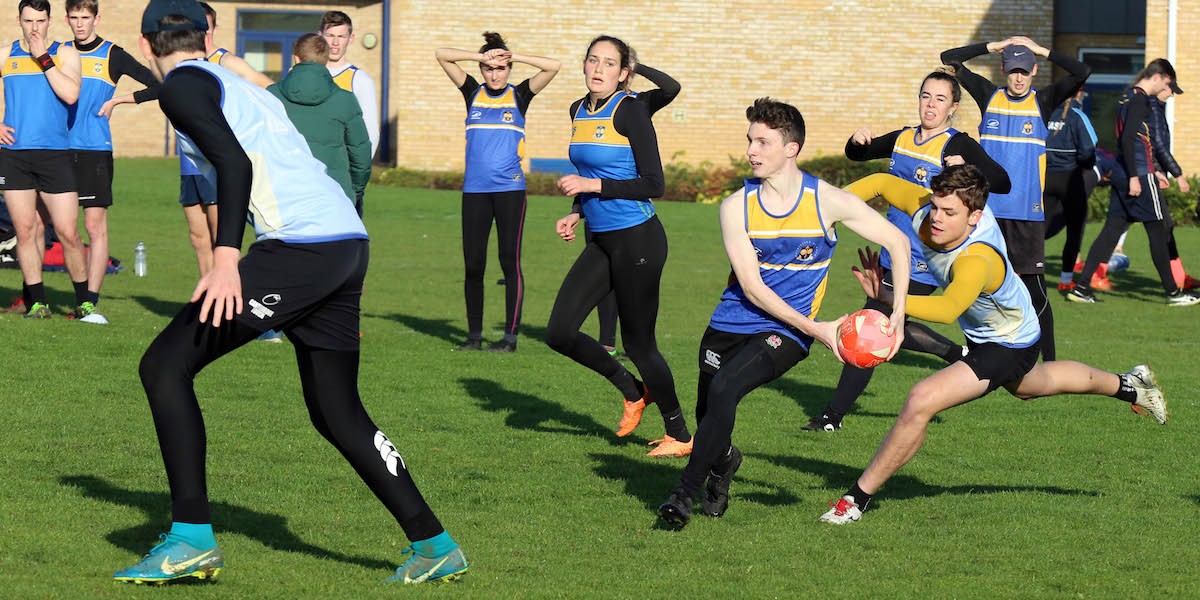 The Bath Hawks earned their first Cup of the 2019/20 Uni National Touch Series after another tense final against Exeter Hurricanes.
On a chilly and damp Saturday, Cambridge played host to the largest Uni NTS competition to date. Unfortunately Exeter 2s, 3s and 4s were unable to attend due to a coach breakdown early in the day. The Exeter Hurricanes however, continued where they left off in Round 1, topping their group and convincingly seeing off Cardiff and Edinburgh to reach the Cup final.
The Bath Hawks also qualified extremely strongly for the Cup competition and narrowly overcame Loughborough 1 in a tight semi-final to set up a repeat of the game they lost only three weeks ago. Exeter led 3-2 at half time but valiant displays from the Bath team stopped them conceding at all in the second half to eventually win 4-3.
The Bath Sparrows (2nd Team) also had an extremely strong day taking the Plate trophy after beating Bristol Vipers (1st Team) 1-0. The Bath 2s were antagonisingly close to making the Cup semi-finals but were beaten in a drop-off by a brilliant Edinburgh side. Edinburgh eventually finished third but looked like they may become the dark horse of the 2019/20 Uni NTS series.
Hosts, Cambridge, beat Loughborough 2s to win the Salver while Southampton saw off the Bath Chickens (3rd Team) to win the Shield. The final piece of silverware went to a resurgent UEA who won all their games against RVC, Bristol Pythons (2nd Team) and Bath Eggs (4th Team) in a round-robin.
A huge thank you goes out to all the referees who made the day happen and a special mention to Matt Emmerson who received the MVR award.
MVP awards went to Nye Davis and Elisa Jakobsen of Bath Hawks.
CLICK HERE to see the full results and current series standings.
The Uni NTS travels to Nottingham on November 30th for Round 3, which will hopefully see a full 24 teams attending.