Oxford's 7th Bonfire Tournament ends the Touch Calendar with a Bang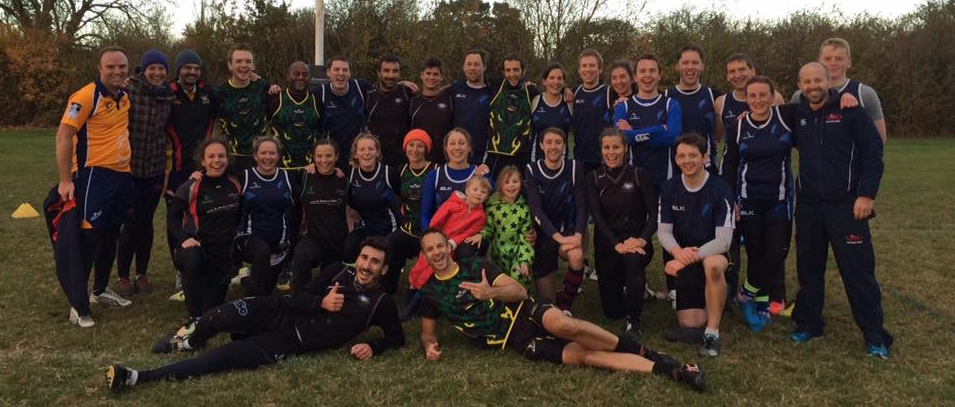 A cold but clear November 5th saw Oxford Touch joined by 14 teams, 10 refs, Peter the Physio and banana-choc chip muffins at their Gosford All Blacks home in Oxford for the 7th outing of the annual Bonfire Tournament. A popular late season tournament for experienced players keeping their hand in and new players having their first competitive experience, this year saw a continental side (Big Bang Europe) joined by teams from Ireland (Racoon West), Scotland (Superhands) and all over England (Manchester Chargers, Loughborough Uni, Thames Valley Vikings, Birmingham Uni, Cheltenham, CSSC, Green & Gold, Cambridge, Nottingham, Oxford Uni, Oxford All Stars and Oxford Touch).
No rain meant conditions were great, however the chilly weather made people eager to kick off and keep things going. With the super efforts of the indefatigable reffing team, the pool stages quickly moved into the quarter-finals and knockout rounds. Manchester Chargers, Big Bang Europe, Cambridge and Nottingham all topped their pools, but tough quarter finals and semi final knockout matches saw only Big Bang Europe make it through to the finals. The eight teams that emerged from the knock stages were: (Shield Final) TV Vikings and Oxford All Stars; (Bowl Final) Loughborough and CSSC; (Plate Final) Superhands and Green & Gold; (Cup Final) Big Bang Europe and, for the first time in the 7 year history, the home side, Oxford Touch.
With no waning of enthusiasm, despite tiring legs the smell of hog roast in the air, close games in all the finals saw the final rewards go to Oxford All Stars (Shield, 5-4), Loughborough Uni (Bowl, 4-2), Superhands (Plate, 6-3) and Big Bang Europe (Cup, 6-3).
Once again, a fantastic tournament to raise the spirits in the winter months, Oxford Touch would like to thank all our friends old and new for coming along - the refs, the teams and particularly the team organisers who managed to drag players out of bed on a cold winter day. Hope to see you all again next year!