Plenty of positives brought home from Lisbon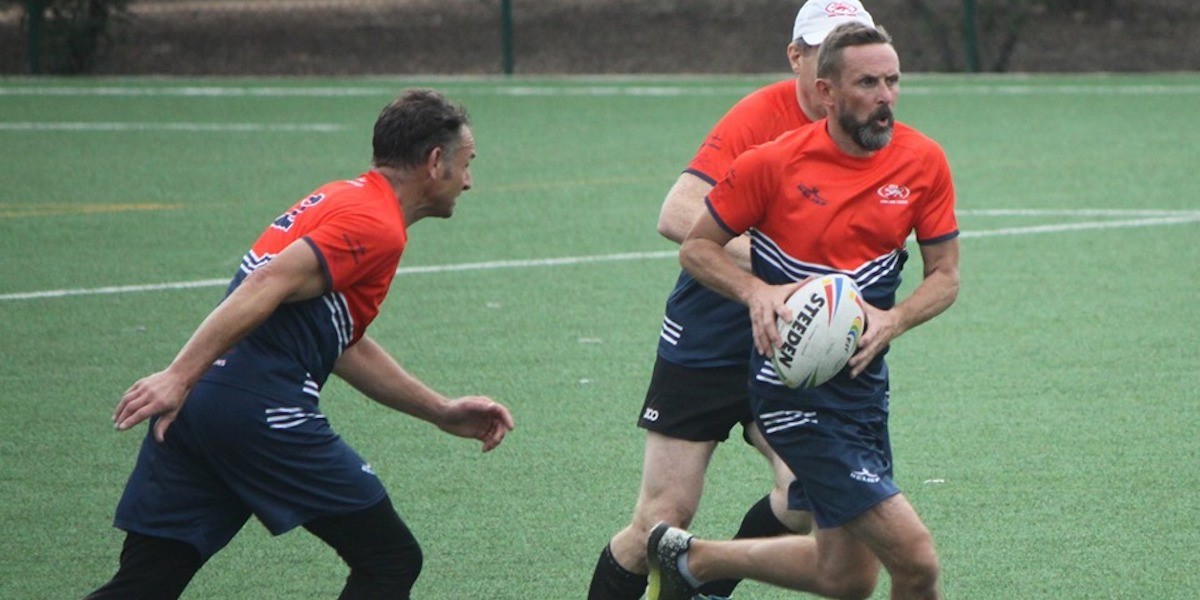 The European Touch Senior Cup has given England Touch's Seniors and Masters a good fillip going into the winter training programme.
Three England Lions teams headed to Lisbon to take on international teams from across Europe in two days of competition, with 90 percent of players having not played for an England representative or international team before.
Coming so soon after the Nationals and before the High Performance Training Squads had met for their first training weekend, time together was highly limited for all the squads, but over the weekend their togetherness and ability to learn and develop shone through with some strong results.
The Senior Women lost their first three games on Friday to the Scotland W27s and W35s and the Eurostars W35s, but on Saturday they won all four games to beat Scotland W35s in the 3rd/4th place play-off, and second among the W27s overall, with Head Coach Gary Lambert commenting that: "The squad showed outstanding camaraderie, culture, focus and development and I foresee all of them continuing to develop and challenging for higher selection as a result.
"This has considerably strengthened our strength in depth within the Women's senior division and has greatly increased the competition for selection moving forward."
The Men's 40s also had a tough Friday, losing to Jersey, Ireland, Switzerland and Wales. But on Saturday they first drew with Portugal before beating the host nation in the 5th/6th place play-off.
"In each game the Men's 40s made great leaps in their game and held their own against teams who had been training together for months," said Head Coach Niall Buggy. "Spirits were high at the end of Friday and everyone knew what was expected. 'No loss Saturday' was a fitting end to a 36-hour journey from strangers to becoming a winning international Touch team!"
The Men's 45s beat Portugal and Wales in their opening two matches before losing to a very experience Ireland outfit at the end of day one. Day two opened against another experienced team in Scotland, and then against Ireland in the semi-finals. The Irish – who went on to win – came out on top once again, but Wales were seen off in the bronze medal match for a third-place finish.
"The pool match draw was kind for this development team," commented Head Coach Simon Ince. "But we put together a simple but structured game plan to beat Portugal and Wales. Ireland proved to be a reality check with a very, very experienced team, but against them and Scotland we took positives in learning to defend against a rapid and agile attack.
"Overall the team bonded really well with all players rising to the challenge of playing international opposition."
"The camaraderie was great to see, as everyone was getting to know their newly-met team mates and supporting each other," commented England Touch Chief Operating Officer Gregg Cropper, who was in Portugal as a referee.
"Our aim in this event was to expose a new group of aspiring players to the High Performance pathways and with 90 percent of the teams having never played for an England team before – a figure rising to 100 percent of the Men's 40s – we have achieved that.
"Overall it was a positive weekend and we were all pleased to see performances get better as the tournament wore on."
Cropper also thanked Belief Sports for their hard work and professionalism shown in turning around the England Lions' kit for the tournament within a very tight timeframe.
"Belief Sports did a massive amount of work to design the kit, take orders and deliver 110 items to the players within four weeks," he added. "We have another 300-plus playing and training items due in another two weeks for the new intake into the High Performance Training Squads and the two Lions teams which are heading to Spain at the end of the month."