Steeden Development Touch Series 2016
Following a successful pilot year England Touch will launch the DTS in 2016 with three regional divisions, which will feed a final in September. England Touch has already identified 4 hosts for DTS teams to enter that will act as larger "national" tournaments across the year that will contribute to club points in a North, Midlands and South Divisions. Further tournaments that will provide the chance to gain series points will be identified in each of the regions, which will allow more clubs to host, as well as more local competition.
Three clubs from 2015 gained promotion from the DTS division – Canterbury Cougars, Green+Gold and Halton Storm. The top two teams in each of the regional divisions will be invited to take part in a Final in September (not as previously suggested at the Touch Nationals).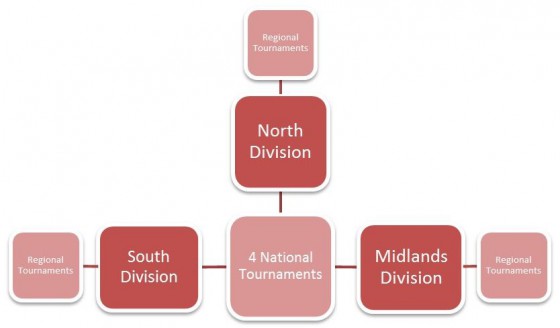 DTS Round 1 – Manchester
Saturday 20th February
(Audenshawe School, Hazel St, Audenshaw, Manchester M34 5NB)
Entry Form
DTS Round 2 – Southampton
Saturday 30th April
(University of Southampton, Wide Lane, Eastleigh, Southampton SO50 5PE)
Entry Form
DTS Round 3 – Warwick
Sunday 15th May
(Old Leamingtonians RFC, Bericote Road, Blackdown, Royal Leamington Spa, Warwickshire CV32 6QP)
Entry Form
DTS Round 4 – Lincoln
Saturday 18th June
(Lincoln RFC, Longdales Park, Lodge Ln, Lincoln LN2 2RS)
Entry Form
The Development Touch Series is open to all England Touch affiliated clubs and we would welcome developing clubs to get in touch to see if this expanding competition is right for them.
We would also like clubs to begin to think about hosting regional divisional rounds across the summer and this EOI will be provided in the coming weeks. If you are interested in your club hosting a regional DTS tournament (smaller competition so should be suitable for all clubs to deliver) please contact - events@englandtouch.org.uk