Ben Powell - ETA Technical Director Interview
In this interview on the week of the #TouchNationals, the ETA's new Technical Director, Ben Powell (pictured centre as the NW Blades women's squad regional coach), has spent the Winter months working with England Touch colleagues to develop the organisation at the elite level.  He takes this interview opportunity to give the Technical Director's planning perspective.
ETA:  From an England elite squad perspective, what other initiatives do the ETA have in the pipeline?
Ben:
"We have a number of coaching courses planned for this year which will run alongside our NTS and CTS events this summer. We are currently planning courses and training weekends which will endeavour to 'up-skill' our National team coaches and our elite squads in the lead up to the Home Nations Tournament and beyond. In terms of our hopes for the Home Nations, we (England) will be going into every division very confident as we we look to capitalise on the achievements of the 2012 Euros in Trevisio and build towards the 2014 Euros to defend our crown. We are obviously expecting tough competition from the likes of Wales and Scotland throughout all divisions, however, no nation will be taken for granted. Personally, I am eager to see the implementation of the Women's 27 division, as it is not only a category that England should be well represented in, but it is a category that has really established itself in NTLs in Australia. Finally, one of our most important initiatives this season will be to continue the already established development of our referees. The England Touch Associations Director of Referees, Shelley, has been working very hard to ensure a number of Level 1 and Level 2 Refs courses run alongside most NTS and CTS events."
ETA:  Where do you view the priority sector as being for England Touch to target in their elite Touch progress campaign?
Ben:  "Although there are certain areas offering a very high return of 'Elite' standard players, we are trying to ensure that a diverse range of areas are being targeted and developed to push players through to the standards required to allow England Touch to compete in the international arena.  The current development of Touch Leagues within Universities and the O2 Touch League is very promising, and as our partnership with the RFU progresses, I am sure we will see not only the 'grass-roots' of both sports grow, but the Elite level too."
ETA:  How is England Touch hoping to work in the future with developing youth & grass roots through to elite level Touch?
Ben:  "
I
n terms of grass-roots and youth development, it has very much been an 'upside down' process, for lack of a better phrase. With current results on a European stage indicating that England Touch is on the rise, we now need to push forward in ensuring that we are developing the stars of tomorrow for England Touch. Involving younger ages in Touch in England is a tough initiative due to how new the sport is, relative to the bigger codes of Rugby Union, Rugby League and Football. However, the aim is to increase the profile of Touch in England by raising the awareness of our NTS/CTS events, the introduction of 'Touch Taster Sessions' in conjunction with selected NTS/CTS events with involvement of elite players in these sessions, and our appointment of Regional Development Officers. With this we will enable a clear path for the involvement from grass-roots players through to international level.  Our Development Coordinator, Dave Cope, and High Performance Manager, Marnie Wills, have been working closely to establish these lines of involvement in our sport."
ETA:  What of the development pipeline for coaches?
Ben:  "Although not as rapid as player development, a systematic approach to the development of our coaches is being established. The amount of Level 1 Coaches rose significantly last calendar year, and we are expecting the same this year. With the assistance of Australian Touch Coach John Singh last year we were not only able to progress some of our Level 1 coaches to Level 2, but also qualify a number of coaches to be able to present both Community Level and Level 1 coaching courses. The ultimate goal is to have all club, regional and national coaches qualified to some degree, and most importantly offer our coaches some form of development each season."
ETA:  So what plans do the ETA have to develop the elite level Touch coaches of tomorrow?
Ben:  "
There is a big focus on ensuring development for our elite coaches in the coming 12 months and in the lead up to the 2015 World Cup. England Touch recognises the need to ensure regular development for our elite coaches, as they are the people who will directly effect our elite players and performance on the international stage. This season we are not only seeking formal qualifications for our elite coaches, but we are trying to ensure that there are 'non-playing' coaches associated with each international team. The England Touch Association and the European Touch Federation are also in talks regarding an exciting partnership in developing a coaching program suitable for all European Nations which will hopefully enable not only our elite coaches, but also other European coaches, as we look to close the gap on the Southern Hemisphere giants of Australia and New Zealand.  Finally, the England Touch Association has also been approached to nominate an  individual to join the Federation of International Touch' Coaching Commission, which will provide valuable exposure to aid the development of our elite coaches."
ETA:  
Thank you to Ben Powell for taking time out of his busy schedule to give the England Touch community an invaluable insight into the exciting progress from the elite level Technical Director's stand-point.  On a separate note, if you are passionate about Touch and would be interested in taking up a committee role with the ETA then
click here to find more about becoming our Development Director
-
 We are England Touch.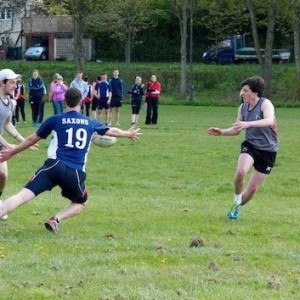 Ben Powell (pictured right) comes from a playing background.  Here he is on the attack for the NW Blades at the 2012 Touch Nationals.