Blast From The Past Inspiration
England Men's 35s squad Assistant Coach and player, Nathan Joyce, (pictured bottom row, far left) takes us down memory lane with an inspiring interview on how much Touch has evolved in England since this photograph of a British entry into the 'All Nations' tournament held in Christchurch, New Zealand, in 2005.  Nathan began playing Touch in 1994, when he was living in Cardiff and a Touch league was introduced to the local area.  He was approached by his Rugby Union coach, Paul Napier, to join a local league side that is still competing today - the Kiwi Dragons (KDT).  Nathan achieved his first Touch international honours in 1995.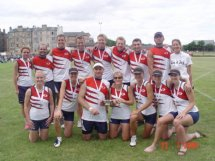 Nathan Joyce (top row, second from left) & the ETA are European Mixed Open Champs in 2006!
England Touch: For the benefit of our readers, which Touch club do you currently represent and what role did you play for your regional side at the 2013 Touch Nationals?
Nathan: "I currently play in the ETA affiiliated Bristol League for the Cougars/Panthers and am the regional lead for the South West Saxons, in partnership with Martin Wright(England Senior Mixed), we coach/manage the Saxons together."
England Touch:
What can you tell us about the featured 'Blast From The Past' photograph and does it bring back
 any humorous or other fond memories?
Nathan:  "The photograph is from the 'All Nations' Tournament in 2005, which was held in Christchurch, New Zealand.  The picture was actually taken at the end of the competition as we were watching the finals.  We entered a mens and women's team into the tournament and it was a real eye opener for our players to watch the speed and skill of the Southern Hemisphere sides that we competed against; in terms of competing at the highest level it proved to us just how far behind those countries we were.  The most humourous memory of the tour had to be when we were preparing to leave Auckland to attend the tournament in Christchurch.   Two of my roommates had been out socialising the night before (Dan and Mark) and had failed to return through the night.  The team was preparing to leave for the airport when a taxi arrived and out steps Dan and Mark slightly worse for wear, claiming that they had been out with Kevin Mealumu (NZ Hooker) and that it would have been rude not to have a drink with him (the side was on a non drinking ban).  They professed that they were only doing what they felt best for international relations!  The coaches left their comments for the training pitch, where Dan and Mark were subjected to rigorous exercise drills to get them back into shape (nobody broke the ban after that!)."
England Touch: Eight years later how many of the British team players from the photograph are still playing?
Nathan: "Only seven from that squad photo!  To be precise: bottom row, only myself (far left, red jacket); middle row, Mike and Anna Stibbs (centre); middle row left, Samantha Philips and Morneike Williams; top row left, Caroline-Evans-Jones; top row right, Clayton Black."
 England Touch: What has kept you motivated to continue playing Touch since the photograph?
Nathan: "The sport itself and the introduction of countries that I have never played before.  With the sport increasing in size all of the time there is always someone new to play and to try to beat."
England Touch: What was the Touch set-up like in England then and how does that compare to now?
Nathan: "Touch around the UK has grown tremendously over the years from the late 90s until present day.  Previously, trials for the international teams were held in public community parks, with no promotion of the sport being utilised and no sponsorship available.   England touch has developed with a small contingent of volunteer committee members who also happen to be dedicated enthusiasts of the sport.  Between them they now cover governing committee, coaching, development, player and refereeing roles.  The England Touch Association (ETA) has a greater backing and professional feel than ever before with the introduction of medical staff, tour managers, and managers in recent years; each of whom have alleviated the pressure off of what was previously a four person team covering all of these positions within the ETA!"
England Touch: If you could only pick one, what in your opinion has been the single biggest change with Touch in England/UK between 2005 and now?
Nathan: "Professionalism.  We still have along way to go when it comes to having the resources that are available to the Southern Hemisphere sides, but we have made massive inroads in the way we present ourselves and the resources available to us now and our technical understanding of the game.  It is a far cry from the days when a medical team was a damp sponge and a tour manager was whoever could add up properly!"
England Touch: What was your first thought when you saw the photograph?
Nathan: "I have hair and how many of us were still around playing at a international level."
England Touch: How have you evolved with the England Touch revolution since the photograph?
Nathan: "Im still a player now for the Men's 35s Squad and have played for every team that England has available to it - apart from the Women's side, FOR OBVIOUS REASONS.  I have coached the Mixed open and Senior Mixed side and also now, in conjunction with Mike Roa, help coach the Men's 35s Squad. I have also been Technical Director of the ETA from 2009 until 2011, after the Touch World Cup in Edinburgh, where we achieved our highest World Cup rankings."
Nathan Joyce scores a diving TD in the 2011 World Cup Bronze Medal game.
----------
We thank Nathan Joyce for sharing his memories with us and hope that his words will be an inspiration to all involved in the ETA and the ongoing development of Touch in the UK.
We Are England Touch.