A true underdog story
England Men's 30s Home Nations 2013 Campaign – The True Underdog Story
The England Men's 30s (M30s) pre-tournament preparations were not ideal, yet the lack of a permanent coach being appointed until late did not stop the squad training. Men's 35s coach Mike Roa and interim M30s Captain, Ruez Durani, were instrumental in keeping the training momentum going until Tracy Andrew was formally appointed as M30s Head Coach with just a couple of weeks to run to game day.
Coach Andrew announced a final squad of eleven players, ten of whom would be earning their first England international honours. While this was an impressive achievement for the eleven players involved, the relative lack of international experience in the side was a concern and a risk the England Touch Association took. On paper, pundits didn't back the inexperienced and new look M30s England side, but coach Andrew and Team Manager Anna Jennings worked tirelessly behind the scenes to prepare the squad as best as possible, given the short timescale.
The M30s squad arrived in Dublin with Nathan Bourke announced as Captain for the Home Nations. There was no doubt in coaching staff minds that the M30s possessed a host of talented individual players with much potential. But a big question lay unanswered; could these individuals play as a team? On the eve of the competition one thing was clear to all involved: a feeling of unity amongst the squad.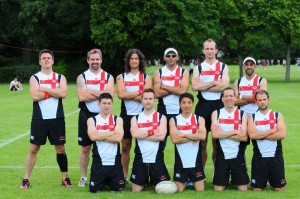 Day 1, Game 1
England 8 – 4 Ireland
Tapping off Home Nations 2013 on pitch number one – centre stage – England M30s took on a spirited host nation side, who fired the opening salvo by scoring the first Touch Down of the tournament, much to the delight of the home crowd. The celebration was short lived as England's Nicholas Matenga made a deceptive run to set-up the equaliser and England's first score of the tournament. England had a narrow lead at half time, but the second half was a different matter. As the match progressed England became more composed and gained vast yards through Rich King and Pete Ellyat's excellent driving play. With less than 5 minutes to full time a glimmer of Irish hope remained before Christian Garland hammered the nail in the coffin with a score that sealed a convincing opening win against the host nation.
Day 1, Game 2
England 4 – 3 Wales
This fixture proved a close encounter from the outset, where a well drilled Welsh attacking line seemed to unsettle the English momentum from game one. Nathan 'Mongrel' Bourke led his side from the front with a robust half time talk and two Touch Downs that settled England's men into their game rhythm. Fired with a new found energy by further Touch Downs from Christopher Wall and Nelson 'Braveheart' Mcmillan, the side rallied together to overturn Wales in defence, suffocating their attacking options through some excellent defensive play. Both teams had developed a mutual respect for each other by the end of this match, and every player left the field knowing that they would have to be at the top of their game on day 2 to achieve the best of outcomes.
A team dinner after day one in one of Dublin's finest steak house restaurants was exactly what the England M30s needed to relax overnight.
Day 2, Game 1
England 6 – 2 Wales
Team cohesion amongst the squad was tight going into the final day, and as news travelled into the Team HQ of a Wales victory over Ireland during breakfast, Coach Andrew & Manager Jennings knew their place in the Home Nations Gold Medal Final was provisionally booked. It was Richard Jones who proved that if in doubt, do nothing else other than the basics of Touch well and you will excel. With two Touch Downs following some intensive driving play, excel in this match is exactly what Richard did! Ruez Durani's homework paid off. His in-depth study of the Welsh allowed him to show the England men that above all, keeping a cool head was key to exploiting scoring opportunities. Wales conceded defeat to an England side determined to gain any psychological edge possible before the final.
Day 2, Game 2
England 6 – 3 Ireland
The positive performance in the morning against Wales was anything but that in an afternoon match versus Ireland. Knowing that a place in the final was secure, whatever the outcome of this game, England seemed to start the match lost at sea. The Irish team played very well in the first half and displayed a marked improvement from day one. With the support of the home crowd, Ireland were dangerous in attack and played with passion and pride, aiming to bow out of their tournament on a high note. Leading the veteran guard, Nicholas Matenga settled England's tense nerves with play making moves as cool as ice and a partnership with Amro Karim which saw Amro over the line to score twice and Nicholas once. Just as important was the defensive performance of Christopher Wall, who worked tirelessly to support his team mates and saved at least two Touch Downs in the process. Richard King's breakaway Touch Down in the second half seemed to quash any Irish hopes of an upset, and although the victory was secured, a bruised England team knew they'd have to lift their game for the final.
Day 2, Game 3; Home Nations Men's 30s Final
England 7 – 5 Wales
The atmosphere for any final is electric and this was no exception. You could feel the excitement of the England players as they took the field to the cheers of travelling supporters and through the tunnel of honour provided by other team mates. Representing your country, playing for a Gold Medal at an international tournament, this was the stuff of childhood dreams. But it was time to stop dreaming, England had done too much of that against Ireland in their penultimate match and could have paid the price for it. From the tap-off, England's lads smashed into the Welsh defence without mercy, wave after wave of attack seemed to batter opposition morale; Wales were relieved to hear the half time whistle. Amro Karim earned his 'Golden Ball' title after scoring another Touch Down and totalling 7 for the tournament! Welsh fighting spirit never dies and Wales demonstrated this in the second half with a strong come back which halted the English attack and put early trophy celebrations on ice – England would have to fight to the final whistle if they wanted Gold. And fight is exactly what England M30s did, with John 'Howler' Howells proving an inspiration to his team mates after a 'shimmy' manoeuvre, his eye for a gap, and explosive speed saw him slice open the Welsh defence once more to score a diving Touch Down and place the trophy out of Wales' reach and into England's hands at the final whistle. Jubilation for England M30s!
Congratulations to our MVP & the England Men's 30s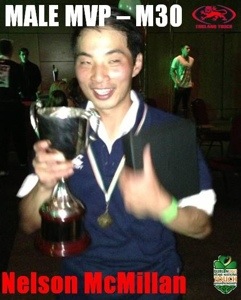 Much to his surprise, our 'Braveheart' - Nelson Mcmillan – came away from the tournament with a special honour: winner of the Home Nations Most Valued Player (MVP) award for the Men's 30s Category. On receiving the award, Nelson said: "I came to Ireland to fulfil a childhood ambition of being able to play sport at an international level, to represent my nation's colours with pride. Winning a Gold Medal on top of that was special, but never could I have imagined receiving a player award of any sort. I'm humbled by the MVP trophy and dedicate it to all those who have coached, mentored, taught, and believed in me from the first day I picked up a Touch ball. Dreams can come true."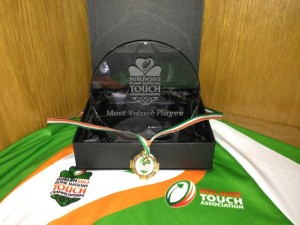 Finally, congratulations to all those involved in the England M30s at Home Nations 2013, you epitomise what the ETA believes in. Through perseverance, self-belief, and cohesion, we can all succeed – We Are England Touch.