Women's Touch – Development Day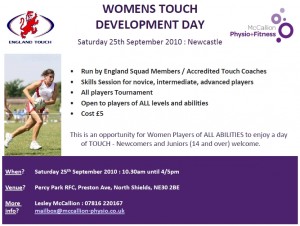 Please find below details of this year™s Women™s Touch Development Day " Saturday 25th September 2010. The venue will be Percy Park RFC where they will have access to excellent facilities.
The format of the day will be morning warm up and coaching in ability groups followed by an afternoon tournament.
Food will be available in the bar afterwards and for those keen, an evening out in Tynemouth/Newcastle.
All abilities will be catered for and novices are very welcome.
Percy Park is easily accessible by car, metro, train, plane and there™s loads of accommodation around the area.
Please forward this link to anyone you think may be interested. Any questions, don™t hesitate to give me a shout. Many thanks, Lesley McCallion " England Touch Regional Development Officer 07816 220167