Revolution bridging the gap in west Midlands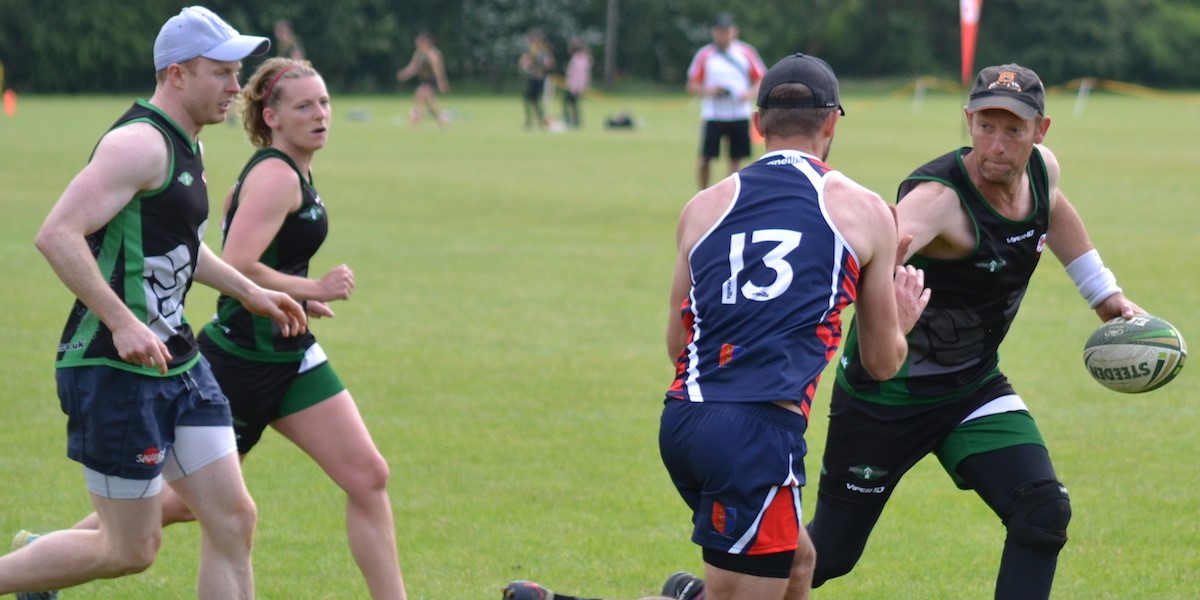 Creating an effective and clear pathway for Touch players looking to develop their game and reach the next stage of representation can be a big ask in some areas, especially while the game is still growing.
In the West Wildcats region, a Revolution has steadily been growing, providing individuals with exactly the opportunities needed to grow their skills and test themselves against players from further afield without racking up miles in travel.
Revolution Touch, based in Redditch, has built an effective regional hub for players looking to take that next step and give themselves a better chance of making Nationals or going on to represent England.
Claire Rylance is a central figure in Revolution's coaching team, providing players with the benefit of her considerable experience, having played for England and coached the Wildcats on numerous occasions.
She explains how the club came to be: "About three years ago, in 2018, there were a couple of players in the area who were within the World Cup setup, making England high performance squads, but not really kicking on further than that.
"Those of us who wanted to play at a higher level were needing to travel down to Oxford, which is a good hour's drive for us – the Wildcats region is massive, with representation being predominantly from the southern clubs, from Oxford and Thames Valley, and not much further north than that.
"Initially, a couple of players got together to do some training to see if we could get the players with a bit more knowledge and that drive to want to perform at a higher level to help with that summer's Wildcats and then see where it goes – to see if we could get more players selected into England High Performance squads and then kicking on to making England teams.
"It was really just a summer's worth of training together in the start – picking nights that meant players could still play with other clubs at DTS or social level but also the ability to get some higher performance level stuff as well.
"At the end of the summer, we decided to sit down and have a meeting about whether there was then any appetite for taking it forward. From there we decided that we would need to set up a club, not with the aim to enter the NTS, but to try and attract players from the North of the Wildcats region to train together at a higher level and see where it goes from there."
Since then the club has grown, becoming a well-travelled pathway between playing Touch socially and making the steps into regional or national action.
One of the challenges for Claire and her fellow committee members has been to avoid creating friction with other teams in the area, making it clear that Revolution aims to build strong networks with those clubs rather than working against them. Claire explains: "The idea was that we would work with them, we shouldn't be seen as poaching players.
"We tried to arrange our training nights around the other clubs' training so that everybody could still attend their own club and still be an active member. In many cases, they are the senior members of those clubs, they're the coaches, the captains and the committee members.
"As they retain a big active role in their other clubs, the things they were picking up and learning and developing from being at Revolution, they could take back. There was a through-flow, back and forwards as well, where they could recommend players to go down to Revolution if they wanted to learn a little bit more.
"Equally, we've had players turn up who feel it's a bit too much for them at that time and we've showed them their nearest DTS level club, so they can go and play there and build a few more skills, but know they're welcome back if they want to play at a higher level.
"It's kind of a throughput where we hopefully support the other clubs in the area; they support us by identifying players for us and everybody just gets to play a lot of Touch with an outlook for what they want from the game."
The growth of Revolution demonstrates the interest in the area for playing higher level Touch, even if the opportunities have not always been available or realistic for everyone. The northern area of the Wildcats region may not be hugely represented at Elite level compared to others, but there is undoubtedly a lively scene below that level.
This is something that Claire is confident Revolution and other hub-style clubs can play a key role in nurturing. She outlines the potential for the region: "I think there's a huge appetite for Touch in the area – for years it's been an area where there's been a lot of O2, social touch happening and maybe players not knowing that they could take the next step.
"There's a real appetite in the area both within the mixed game, but also in single sex and particularly the female game with players wanting to play more regularly and wanting to develop.
"By working with our local clubs, I think we'll have a really good showing at DTS this year as they have developed massively as a result of having links to Revolution and players who have trained with us.
"I think that will be the proof, when we can see Revolution performing at the Elite level and taking that step of pushing those players into playing against the best teams in the country but also a huge number of clubs now playing and competing at that next level down and really performing there too."
While the sport continues to grow at a rapid pace nationally, clubs built on a regional hub structure like Revolution may become more and more prevalent, as players look for more opportunities to test themselves and develop their abilities.
Elsewhere in the country, the creation of more regional clubs and the development of a stronger pyramid structure has the potential to benefit everyone, both at the top and the bottom.
By occupying the space in between more socially-targeted clubs and higher level competition, clubs like Revolution create unique experiences for players, something which Claire sees first hand: "When we first started training with Revolution, we didn't initially have NTS in mind but then we decided to give it a go.
"We decided there was no point in entering us into DTS because that wasn't really giving the players anything extra as they could play there for their own clubs – there really was a push that we needed to have a club in the NTS even if it was in the lower levels initially.
"While we're building and developing, there's clubs that have been playing for 10 years plus with some really seasoned players. We have a lot of fresher players that we're providing the opportunity to taste the next level of experience and progressing.
"That was what we needed to do and we knew that it would really benefit the region as a whole, providing that core place so that if players wanted to play NTS, this is where you go.
"Across the Wildcats region in general, if you're in the south of the region you've got Thames Valley, then you travel up the M40 and you've got Oxford, then you've got Revolution.
"Our region goes as far as Stafford and we have players travelling from there so in the future you have scope for a hub in that area as well. That could mean players potentially leaving Revolution to play for that club as they start to progress and develop but you've got to look at the bigger picture.
"We have a philosophy that it's not necessarily about how well a Revolution team does results-wise in NTS, it's about what players get from it and what those players develop. It's more about players going on to regional trials, getting selected for regional teams and making that step into England high performance, if that's what they want to do.
"Equally, we have players who have no intention of doing that and that's fine, but it's always been less about high how high up the ladder you finish at NTS or how many games you've won and more about the individual skills of the players and that translating over to them being useful squad members at higher level and cascading those learnings back down as well."
By filling the space in between local, socially-oriented clubs and higher level, elite teams, clubs like Revolution are effectively raising the standard for everyone in the area, bringing tangible benefits for everyone involved.