New partnership to grow oval ball sports

The England Touch Association (ETA) and Rugby Football League (RFL) have today announced a groundbreaking new partnership that will see the two governing bodies work together to grow oval ball sport across England.
The two codes have been inextricably linked for the last 50 years, ever since South Sydney RL players first used a minimal contact sport to stay fit during the summer months.
Since then Touch Rugby has grown into a sport in its own right, with millions of players across the world, 50 nations affiliated to the Federation of International Touch and thousands of players taking part in World Cups and European Championships.
These international tournaments have become standout events in their own right, with thousands of players, coaches, referees and support staff heading to a single location for days of outstanding competition.
Touch Rugby players are also making the transition into the professional and semi-pro Rugby League ranks on both sides of the globe. In Australia players such as Shaun Johnson and Ryan Papenhuyzen have highlight reels as exciting from their days in Touch Rugby as in the NRL, while in the Women's Super League former England Touch age group international Orla McCallion was going head to head against Chantelle Crowl when Leeds Rhinos met St Helens in the Grand Final, with England RL international Crowl having been a regular player for a number of Manchester-based Touch Rugby clubs in her formative years.
Domestically the ETA has expanded exponentially since its founding 26 years ago and now has around 130 affiliated clubs and leagues, with thousands of players of all ages, genders and backgrounds picking up a ball and running with it.
England are heading into next year's European Touch Championships – being hosted in Nottingham – as the reigning champions and third-ranked nation in the world. Not just that, but England's Under-15 Mixed and Under-18 Boys, Girls and Mixed teams achieved an unprecedented collective record of 27 wins and two draws from the 29 games they played in the 2019 European Junior Touch Championships.
Since then the pathways have continued to grow, with partnerships with coaching companies such as Progressive Sports seeing Touch Rugby be delivered in schools across the country, the University National Touch Series expanding into dedicated northern and southern competitions for the first time, and England introducing a Men's Over-50 team for the first time.
Meanwhile Touch Rugby has also become an increasingly important part of the RFL's offering, with Play Touch RL clubs across the country, and Wigan Warriors, Leeds Rhinos, Hull FC, Hull KR, Warrington Wolves and Newcastle Thunder entering men's and women's teams into a new series of events for their Charitable Foundations. 
Furthermore, the Super League and Touch clubs in Wigan and Leeds are already working closely together on a range of initiatives, and the new nationwide partnership will be building on that example.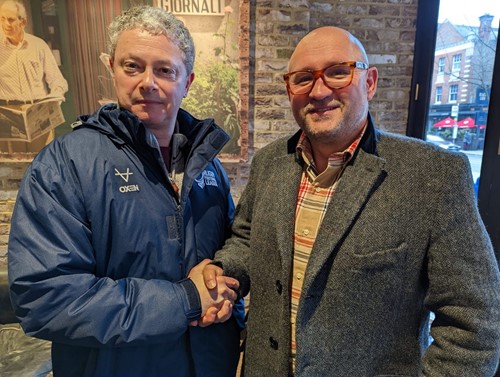 Pic: RFL Chair Simon Johnson (left) with England Touch and FIT Chair Mark Croston
With England hosting both the RL World Cup and European Touch Championships in 2022 the RFL and the ETA will work together to grow the profile of both sports, give everyone the opportunity to achieve their potential, and to make Rugby League and Touch Rugby more inclusive.
"We've seen in Australia with the NRL and Touch Football Australia how much a positive and proactive partnership can be mutually beneficial, and by working closely together with the RFL we can grow both of our respective codes across England," said England Touch's National Development Officer, Sammie Phillips.
"We will be working together to get more people choosing to pick up a ball and run with it as their sport of choice, and then giving them the opportunity to progress within our respective codes, whether as a social or competitive player, and to potentially use their skills in both.
"We believe that community Rugby League clubs will view this partnership as an opportunity to include Touch Rugby in their own offering, and it will be fantastic to welcome them into the England Touch community, at whatever level they choose to engage with us.
"Having the Rugby League World Cup and European Touch Championships both in England in the same year is a unique opportunity for us to amplify the interest in our sports and to maximise participation across all ages, genders and backgrounds.
"We're looking forward to working with our friends and colleagues at the RFL to achieve both our aims."
Marc Lovering, the RFL's Director of Participation and Development, added: "We've had a long-standing relationship with the ETA over the last few years with significant crossover of personnel. 
"To formalise that agreement and work to grow Touch will be a great step forwards. They have some great pathways in place for players at all levels and we really see our focus supporting the development of more players which is becoming a focus area we identified to collaborate on.
"This newly formed partnership with the England Touch Association offers an excellent opportunity to offer players a pathway into Rugby League.
"We have a growth strategy that looks to build a more flexible range of playing offers working with partners with specific expertise. We have such a good network of partners and relationships which will see us go from strength to strength offering alternatives supplementing the traditional 13-a-side contact game."
England Touch Chair Mark Croston – a former RFL Vice President – attended the RFL Foundation events and says that they can be a blueprint for project working between the two organisations, adding: "I took the opportunity to attend the first event in Wigan, and was delighted to see the Wigan Rugby League brand embracing our sport on a more formal basis.
"The fact is that every rugby player will play Touch, probably every week, if not every practice session, so if we can grow the number of people participating, supporting and viewing both sports we will benefit in so many ways."
RFL Chair Simon Johnson believes that the aims of the two governing bodies will dovetail successfully.
"This is a good fit for both organisations as we aim to increase the number of people of all ages who use Rugby League and Touch Rugby as a way of being fit, active, healthy and happy," he says. "The structure of Touch Rugby is similar to Rugby League, making it easy to pick up and fun to play – at whatever level.
"We believe more people can discover Rugby League through Touch Rugby, just as more people can discover Touch Rugby through Rugby League."