Battle in Bolton - it's a sibling rivalry!
North West Blades' Emily (left) and West Wildcats' Sarah (right) Kelly.
BATTLE IN BOLTON - IT'S A SIBLING RIVALRY!
Muhammed Ali's 'Rumble in the Jungle' isn't a patch on our 'Battle in Bolton'.  Why?  Because we've got the edge with a sibling rivalry!  Debatable, but  the world of sport isn't short of its sibling rivalries, think of tennis' Williams sisters for one, or boxing's Klitschko brothers as another example.  Touch is no exception, the Verniquet sisters are well established amongst the England elite, but 2013 introduces two new sisters which the Touch world should look out for.  Both young of age and full of skill, the Kelly sisters have been making their mark this off-season, impressing regional selectors to obtain a place in the final North West Blades (Emily Kelly, pictured left) and West Wildcats (Sarah Kelly, pictured right) squads.  In this interview the talented sporting sisters and their parents reveal the truth behind the brewing Battle in Bolton.
ETA:  Sarah, the England Touch community wants to know who you are, could you start by telling me about your Touch history?
Sarah:
"I'm 20 years old and I'm currently in my first year at the University of Southampton, studying Environmental Science.  I started playing touch in Malaysia for Bingtang Rugby Club and then, after a group of us persuaded the PE department at school that we could form a decent touch team, I joined the first school touch team at the Alice Smith School, playing against other international schools in Asia.  When we moved back to the UK, I took a year out to settle back in and then joined North Wales Touch.  I played for the North West Blades last year at the Nationals, making the England Women's Open training squad that summer.  Since moving down south I now play for the Portsmouth Destroyers (2013 CTS debutants) and West Wildcats.
ETA:  Have you and your sister played against each other at an official tournament before?  Where and what was the outcome on each occasion?
Sarah:
 "I think the first time we ever played against each other was in the Manchester 2013 season opening 'Fully Charged Events' tournament, a game which my sister's team won.  As we were in different age groups and different years at school we have never really competed against each other [until now]."
ETA:  Sport psychologists say that "siblings create a instant dynamic perfect for sports", what do you think?
Sarah:  
"I think I would agree with that, as there is definitely a benefit to playing with my sister.  The ability to communicate without having to say anything, and the fact I know what she is good at and what she isn't; this is the same for her [with regards to me], which is definitely a benefit."
ETA:  With your sister in mind, what are your Touch aspirations for this year's Nationals tournament and beyond?
Sarah:  
"Ideally, I'd like to beat her team and hopefully go one better than the Wildcats managed at the Manchester tournament (Fully Charged Events 2013) and win the whole thing. Id love to get selected for an England squad again but I'm just enjoying playing and meeting new people."
ETA:   Are you and your sister competitive off of the field of Touch?
Sarah:  
"I wouldn't say we are particularly competitive as we both have different interests outside of touch.  We used to be quite competitive with each other when we both swam competitively, to see who could come home with the most medals!  Other than that only the occasional Wii game, where one of us has got a little over competitive and HAD to win."
ETA:  No one wins all of the time, when your two teams meet at the Touch Nationals, how do you feel about losing to your sister?
Sarah:  "
The Wildcats lost to my sister's team in the Manchester tournament and I knew my sister wouldn't let it go, even though we made the final she was adamant they were still the better team because they beat us.  No-one likes losing to a younger sibling but I think it will just spur me on to perform better when we play them [NW Blades] at the nationals."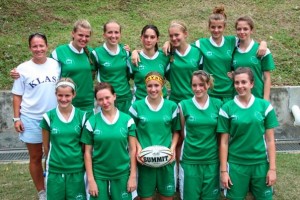 Sarah Kelly (pictured centre) representing Alice Smith School (Malaysia) Varsity team.
ETA:  Emily, could you tell us a bit about your background and your Touch playing history?
Emily:  "I'm 18 years old and I'm currently studying at The Queen's School in Chester.  I started playing in Malaysia for a team called Bintang Rugby Club in Kuala Lumpur around six years ago, I was invited to come and join training by a couple of friends who already attended the club.  I never played for my school team in Malaysia because I was too young.  In the UK, I now play for North Wales Touch and the North West Blades."
ETA:  You and your sister have previously played for the same team, how do you feel playing against her at the Touch Nationals for the first time?
Emily:  "I prefer it to playing with her!  We have a competitive nature towards each other so it's a lot more fun when we get to play against each other.  It also encourages me to play better because beating her team is more satisfying than beating any other!"
ETA:  We sense a real rivalry here, what happens after the Touch Nationals between you both?  Hard feelings or not?
Emily:  "No hard feelings, if her team wins she'd do a little victory dance in front of me and I'd do the same if my team wins!  Then we'd have a little debate afterwards about things such as calls by the referee and discuss which team deserved to win (each of us insisting our own team was the best of course)."
ETA:  Your sister knows all of your Touch strengths and weaknesses, have you had to adjust and update your personal play book to obtain tactical advantage over her?
Emily:  "I don't think I have had to change them, making sure I know my role in set play work for The Blades has been enough to obtain that advantage!  I wouldn't say I have any individual "signature moves" that she could identify and prepare defensively."
ETA:  Who has been your greatest inspiration in the sport of Touch thus far and why?
Emily:  "Nobody in particular, but I admire players with a natural talent for sport who pick up touch principles in an instant!"
ETA:  Would you agree that "playing with siblings can create bonds strengthening the sibling relationship"?
Emily:  "I would agree with the statement, the time Sarah and I spend playing touch either against each other or with each other makes up a majority of the time we do spend together.  Without it we'd probably have a lot less to talk about!"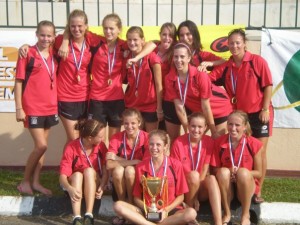 Victory in unison! The Kelly sisters win Touch silverware representing Bingtang Rugby Club (Emily, back row, far left; Sarah, front row, second from right).
ETA:  [To the parents] You must be proud to see your daughters competing at the Touch Nationals, but are you not also torn between which regional team to support?
Mum:  "Of course we are very proud to see both girls playing in the Touch Nationals and I hope to get to see some play on the Sunday, I work on Saturday.  Dad, Steve, works abroad at the moment so won't be around.  I am sure I can manage to cheer on both girls and after all I get two chances of supporting the winning team!"
Dad:  "As an ex-rugby player, I am really proud to see both girls taking to touch and I am naturally disappointed I can't be around to watch and support.  I am as interested in seeing them play well and enjoying themselves as I am in them winning.  I do not mind which team wins if they did meet as it would be a great achievement for either of them to make it the final."
 ETA:  Now that the draw has been made the ETA can give you a top tip, your daughters will face each other on Sunday at 1250!  Do you have any interesting anecdotes about the sporting spirit and competitive nature of your daughters as they've grown up?
Mum:  "We have always encouraged the girls to try any sport around and remember Sarah at the age of 4 trying really hard to master somersaults and cart wheels and performing in a rhythmic gymnastics competition in Mexico (we were living there at the time - she wasn't an international gymnast!).  Both girls have been lucky to go to a school, Queen's School Chester, that really encourages sport and they have represented their school from junior through to senior level in netball, hockey, tennis, rounders, lacrosse (Sarah) and swimming. They both swam competitively for Chester for a number of years before taking a dislike to the early starts!
Whilst living in Malaysia (2006-2009) the girls were both representing their school, Alice Smith School, Kuala Lumpur, at international competitions in places such as Bangkok, Jakarta, Brunei and  Singapore in a number of sports but principally swimming. Malaysia had a number of NZ/Oz expats so Touch was quite popular there. Outside of school, they  joined a girls Touch team that sprang up at Bintang Rugby Club alongside boys rugby!  Steve got involved with the coaching but was completely self taught ( he had been a very competent fly half/full back in his time).  Not really sure the girls liked having Dad as coach and they were very rude to him at times!  We had some good times at Touch competitions, especially The Straights Cup held annually in Singapore, it was run alongside the rugby so all-in-all it was very inclusive.Returning to England, for A levels and GCSE's, Sarah picked up where she left off with school hockey and swimming, Emily struggled a bit to find her niche as she had not played hockey whilst abroad but has played on the school team, her swimming ability allowed her to step straight back onto the school team though.  Emily was also hampered by cruciate ligament damage from a skiing accident that needed surgery in 2011. On return from Malaysia, Steve started playing Touch at North Wales Touch based in Wrexham and persuaded the girls to come along as well and since then they have played with them for the last few years, Emily in a knee brace for quite a while!I think Emily has always had her sister to look up to but has also been very pleased with herself when she has out done her at anything!  They are competitive, Sarah probably more overtly and Emily in a quieter but very determined way!  Emily is having to learn that she hasn't got he sister around to organise her and get her to training etc now Sarah is away at uni; turning up at training with no boots would not have happened with big sister checking you'd got everything before you left home!"
 ETA:  Thank you to the Kelly family for their time and contribution to this special edition #TouchNationals interview.  We wish the girls all the best for tournament day and beyond. - - We are England Touch.