Chargers Invitational - Huge (and muddy!) success
Manchester Chargers
successfully held their second annual Invitational Tournament on Saturday 19
th
Feb at Wright Robinson School in Manchester.  Fifteen teams from all around the country went to compete in one of two divisions (Premiership and Championship) in this pre-season curtain-raiser competition in what is set to be a big year for Touch in the UK with the World Cup competition taking place in Edinburgh in June.
The Manchester weather was at it™s finest on the day (!!) but despite this some, top quality Touch was on display from some of the best Touch teams around, all officiated by some of the top referees in the UK! The teams were split into a Premiership division (8 teams playing in 2 pools of 4, progressing into knockouts) and Championship division (7 teams playing in a round robin competition).
Championship The 7 teams competing in this league were: Chargers 1st Team, Cyffwrdd Gogledd Cymru, Kendal Giants, Nottingham, Sheffield, Thames Valley 2 and Warwick Touch. A mix of experiences, from teams that have entered a few NTSs, second teams from established NTS sides, developing teams that will hope to enter this year™s planned STS and a youth team new to entering Touch comps.
Some really good Touch was on display and results from the day are available on the Manchester Chargers Website Honours for the day went to Nottingham for remaining unbeaten in all 6 games they played and so topping the table and winning the Shield Trophy, and to Chargers 1s who came second in the table losing only once all day and winning the Bowl trophy.
Honourable mention goes to youth team Kendal Giants who were competing in their first official Touch competition, acquitting themselves really well against experienced (and much older) opposition, finishing the day 4th in the table and to their no 10, Michael Johnson, who was voted the Championship MVP, receiving a signed Sale Sharks Ball.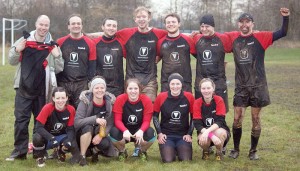 Nottingham - Winners of Championship Division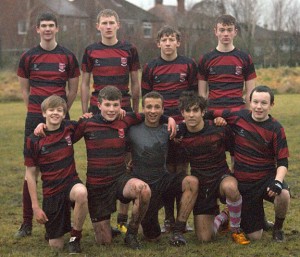 Kendal Giants Youth team, 1st Touch competition and player receiving MVP of the Comp!
Premiership The 8 teams competing in this league were split into 2 pools of 4 as below: Galaxy, Percy Park Pirates, Thames Valley 1 and The Welsh Mix  in Pool A Bulldogs, Cambridge, Chargers A Team and Oxford Touch in Pool B
All experienced NTS and National sides the standard of Touch played was still high given the conditions.  After the pool games Galaxy and The Welsh Mix progressed to the Cup SFs from Pool 1 along with Bulldogs and Cambridge from Pool 2.   In the Plate competition the eventual finalists Thames Valley and Percy Park Pirates played out an exciting final with TV running out 3-2 winners.  The Cup final was contested between Galaxy and Cambridge and a high scoring affair ended up with Galaxy being crowned ˜Manchester Chargers Invitational Champions™ for the second year running after a 5-2 win.
Galaxy - Tournament Winners
Thanks go to all the teams for attending this competition and we hope you enjoyed it, despite the weather conditions! Also to all the referees who officiated at the event, as always, these tournaments couldn™t take place without you so thanks all for making the journey to Manchester, we hope you felt well looked after and that you™ll return for our future comps.  And finally thanks to Wright Robinson school for hosting us (we hope the pitches recover!) and to all Chargers and friends involved in organizing and running the day, your help is much appreciated.