The Bonfire Tournament, 2013
Wild and windy, with flying gazebos, flying touches and flying scores, the Bonfire tournament on Saturday, once again, ended the touch year with a bang for us at Oxford. Despite the storm of the century (?!) last week, we
are grateful that 11 visiting teams weren't put off. It was great to see so many old friends and the tournament newcomers, travelling from all over the UK, Scotland and even Switzerland to take part in what proved to be a cracking day out.
The pool stages (2 pools of 6 teams) kicked off promptly with some good wins, small losses and surprising draws with some great touch played by both old hands and newbies. Ten back to back rounds of 20 minute matches kept the refs warm and busy (huge thanks to Ian, Kevin, Angela, Alice, David, Gary and Martin for stepping up as well as the player refs that allowed them to take a rest) as well as the players. The final standings saw Loughborough, Cambridge, Portsmouth and Ipswich fighting for the Bowl, Thames Valley Vikings, Manchester Chargers, Superhands and Oxford vying for the Plate, while Galaxy Jedi, Galaxy Warriors, Geezers and Wigan Warriors had their eyes on the Cup.
The knockouts saw Loughborough going to meet Cambridge in the bowl final, while Superhands and the Chargers went through. Then the two close-fought, and evenly matched, excellent Cup semi finals ended in drop offs with each side scoring 3 a piece. The Galaxy Knights eventually managed to put one past the Wigan Warriors getting them through to the Cup final, while, finally down to 3-a-side, the Geezers managed to break the Jedi defence.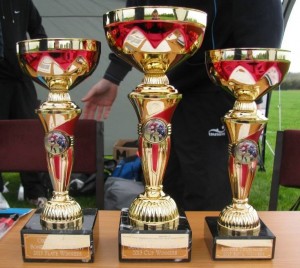 With fading light and increasing wind, the Bowl final sent silverware to Cambridge in a 5-1 match and the same score line meant the Chargers took the Plate (they never leave without silverware). In the final match of the day an arm wrestle of a Cup final, saw some tense play, excellent defensive work and only one score in the 20 minutes, with Galaxy Knights managing to hold on to the lead to take the Cup.
As well as the refs, thanks to all of those that organised the tournament, gathered the teams and caught the flying gazebos. We look forward to seeing you again next year!
Oxford Touch