CSSC Touch win in Verona
by Neil Irving, CSSC Player
CSSC London Touch won the 2014 Novello Cup in fair Verona on Saturday 4th October, topping a field of 18 teams drawn from across Europe. The club took to northern Italy with high hopes for both of its teams – the Ocelots, drawn from its NTS Phantoms squad, and the Allsorts, a mix of some from NTS, some from CTS and some up-and-comers.
On a sunny Venetian day the CSSC Ocelots started well, winning their first two games convincingly against Italian opposition, scoring 16 tries to 1. The path to touch glory never did run smooth, and the Ocelots were given a bumpy ride by a German team representing Munich, Cologne and Berlin. But they held out for a 4-3 win to top the group and go through to the cup knock out rounds unbeaten.
The Teutonic mini-scare seemed to stir the team and they powered through the quarter final 9-1, setting up a semi-final showdown with a strongly fancied North by Northwest team littered with players who had featured at the recent Euros for the Netherlands and Guernsey.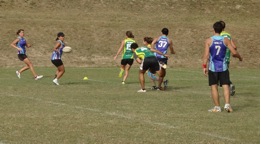 CSSC Ocelots approach the line against Dutch/Channel Island super team North by Northwest 
The semi was a fast, cagey game. The CSSC Ocelots took an early lead through the ever-effervescent Keisha Raymond-Blyth and worked feverishly to keep out waves of sharp attacks. But England 30s player and club coach Chris Wall converted an opportunity late on to close out an exhausting 2-0 win and seal a place in the final.
An all-England final was on the cards as London Galaxy took on Zurich Athletic in their semi final, but the prospects of a match up proved to be star-crossed as Galaxy were narrowly edged out by a late breakaway try that set up a Swiss/English cup final.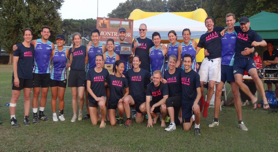 The two finalists – CSSC London Ocelots and Zurich Athletic 
Zurich had an array of dangerous runners and their larger squad looked fresh and confident. But they stumble that run fast, and by this point CSSC seemed in no mood to concede any more touchdowns, pinning ZA in their own half for long periods and snuffing out some smart mid-play when the ball did approach their line. In attack the Ocelots managed to find enough cutting edge to finish three of their chances to seal the game and the tournament.
The tournament win was founded on a mean defence that only let in 5 tries all day - testament to a strong work ethic and team understanding forged in five gruelling rounds of NTS in the English summer.
With twenty assists between them, the team's creative edge came from Dan Wines – recently brought into the England 30s training squad – and Kiwi-honed technician Sean Lim. Chris Wall's razor sharp finishing earned him 10 tries, whilst another England hopeful Claire Traynor's strong running at link was ever a threat. The Veronese love their Chihuahuas and they doted equally on England Women 27s star Lois Lau, awarding her female MVP and a distinctive statuette depicting Romeo and Juliet locked in a tender embrace.
[caption id="attachment_9334" align="alignnone" width="144" caption="Female MVP Lois 'chi chi' Lau"]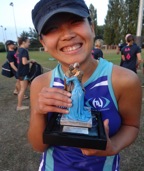 [/caption]
The club's strength in depth was showcased by an impressive performance from its second team. Despite being a scratch side, the CSSC Allsorts gelled quickly and were only narrowly defeated in the group stage by eventual finalists Zurich. Unfortunate to finish third in their group, they won all of their afternoon games to take top place in the lower half of the draw, and in Liam Wantenaar and Luke Roberts they had two of the stars of the tournament. The team was awarded a suitcase for playing in a 'funny and correct' manner – a deserved, if idiosyncratic, tribute to their positive approach and fair play.
The two teams had earned their post tournament pizza/pasta dinner and enjoyed a few glasses of Chianti with the other teams, entertained by Italy's very finest Kiss tribute band.
[caption id="attachment_9337" align="alignnone" width="185" caption="Liam Wantenaar holds aloft the fair play award – a 40 litre upright softside cabin case with integrated wheel system."]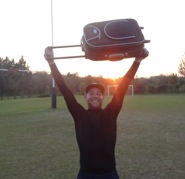 [/caption]
If anyone understands Italian, they even made it into the Italian press - see link below:
http://www.larena.it/stories/Sport/893688_torneo_di_touch_vincono_gli_inglesi_di_london_ocelots/