Touch - a sport for all of the family
It's a proud moment for any parent to see their children play representative sport.  Few sports could dream of simultaneous participation from all of the family at a respected and competitive level, yet Touch allows for this from clubs around the country.  That said, it's a rare occasion when father, mother, son and daughter can field the pitch together on tournament day - a feat achieved by the McCallion family (pictured above in Cambridge) in 2012's inaugural Challenge Touch Series (CTS).
Representing the Percy Park Pirates based in Tynemouth, Northumbria, the awesome foursome (Aidan 14, Orla 11, Lesley and Seamus McCallion) were at the core of a Pirates team which qualified for the Lilleshall finals.  Orla, Lesley and Seamus featured again (pictured below) at the combined NTS/CTS finals weekend in Lilleshall.  The family put together an inspired performance with fellow Pirates and succeeded in bringing the first CTS Plate Winners Trophy back to the North East of England!  The result exceeded the club's expectations for the season and was an unexpected boost to the Pirates' club profile and the continued growth and expansion of the sport in the North East of England.
The McCallion contribution to the Percy Park Pirates stems back to the club's establishment, a venture Seamus McCallion embarked upon over nine years ago.  Since then the club has inspired many a newcomer in the North East to the sport and the Pirates stand firm as one of the region's leading clubs, with representatives having played in regional and national level squads, most recently participating internationally in the England Touch Association's over-all 2012 European Championship win.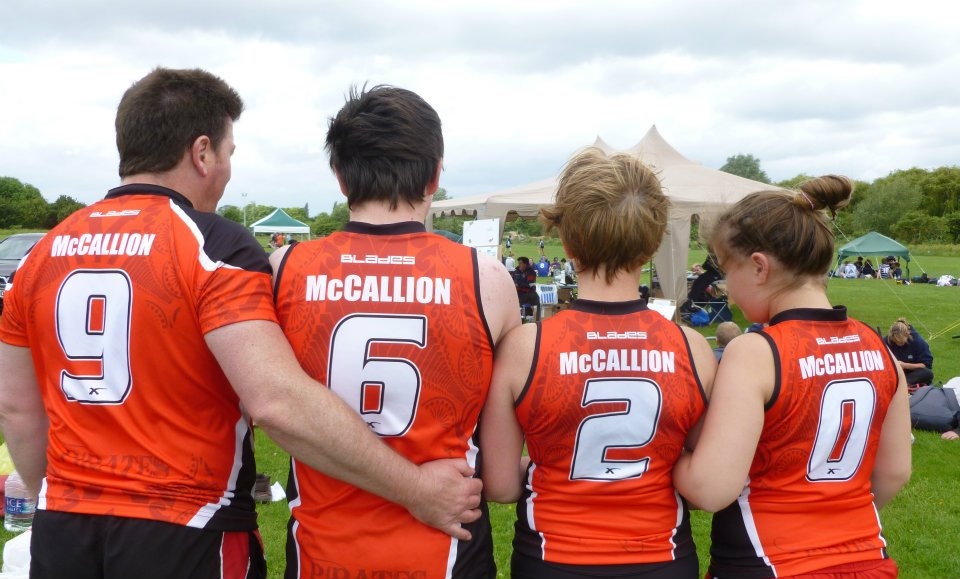 Reflecting on his family contribution to the 2012 CTS Plate win and the future for Percy Park Pirates Touch, Seamus McCallion commented: "I was very proud to be able to play alongside Lesley and both my kids, Aidan and Orla, in a hard fought tournament.  I don't think this could happen in any other sport.  It's not just the enjoyment of being able to play alongside each other, it's the off field, social environment of mixed touch that is unique.
"
The family link at Percy Park Pirates does not end there.  Though the father and son combination of Ian and Richard Moody was unable to feature on the pitch in the 2012 CTS, much gratitude is owed to Ian Moody for his coaching, commitment and behind the scenes work at the club.  Perhaps the CTS may be graced by a combined McCallion and Moody line-up in the 2013 season?!  Touch is, after-all, "a Sport for all".
If you're interested in how you can get involved in this exciting minimal contact, mixed sex team sport that is a great way of keeping fit and socialising, click here for your nearest club.