Medway Touch - Junior Indoor Touch Cup
Medway Touch continues its Schools Cup programme of events by holding a junior indoor touch comp at Medway Park.
Twelve teams arrived looking to be crowned indoor touch champions. The event was played under the FIT indoor/beach touch rules which is a fast and high scoring version of the game with three attackers v two defenders with teams changing over possession of the ball following a score or an error such as dropping the ball. In addition female players are awarded double points for scoring.
In the Year 3/4 (Under 9) age group St Andrews Pups dominated with a unbeaten run to take the cup. Taking the plate with a just one loss to the overall winners were Kingfisher Chatterboxes. The Bryony Cubs took the Shield whilst the St Margarets Warriors took the bowl.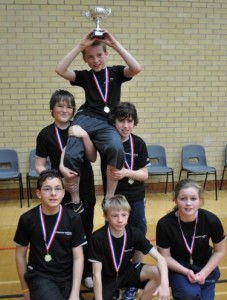 The Year 5/6 (Under 11) age group was a much closer affair with both the Bryony Lions and St Margarets Trojans both having an unbeaten run and the last game ended in a draw between the teams. The overall winner was decided by counting the number of touchdowns and Bryony just edged the cup by one score. Bryony took the cup, St Margarets the plate. St Andrews Cougars got off to o a slow start but managed to get the shield. Kingfisher Crusaders took the bowl home.
Finally in the Year 7/8 (Under 13) age group the clubs Junior Spitfires side ran out comfortable winners with three straight wins and scoring an average of 15 touchdowns per game. Chatham Chargers (Chatham Grammar School for Boys) took home the plate with two wins and just one defeat to the Spitfires. Taking home the shield was the only all girls team the Fort Pitt Canons and a young Bryony Tigers team took home the bowl and a bag of experience.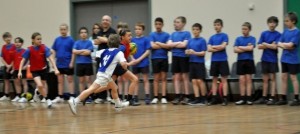 The event proved very popular and was a warm up for the 3rd annual Medway Touch Schools Cup with takes place in May. This will be the is full outdoor game with only slightly modified rules for the Under 9 comp.
If anyone is interested in joining in the clubs junior of senior activities please go to
www.medwaytouch.co.uk
For photos, including group shots with trophies and action shots and also links to videos of a number of the teams playing to give you an idea of the speed of the game even at junior level.
Please click on the following link:
Medway Indoor Touch Comp