England Teams 2019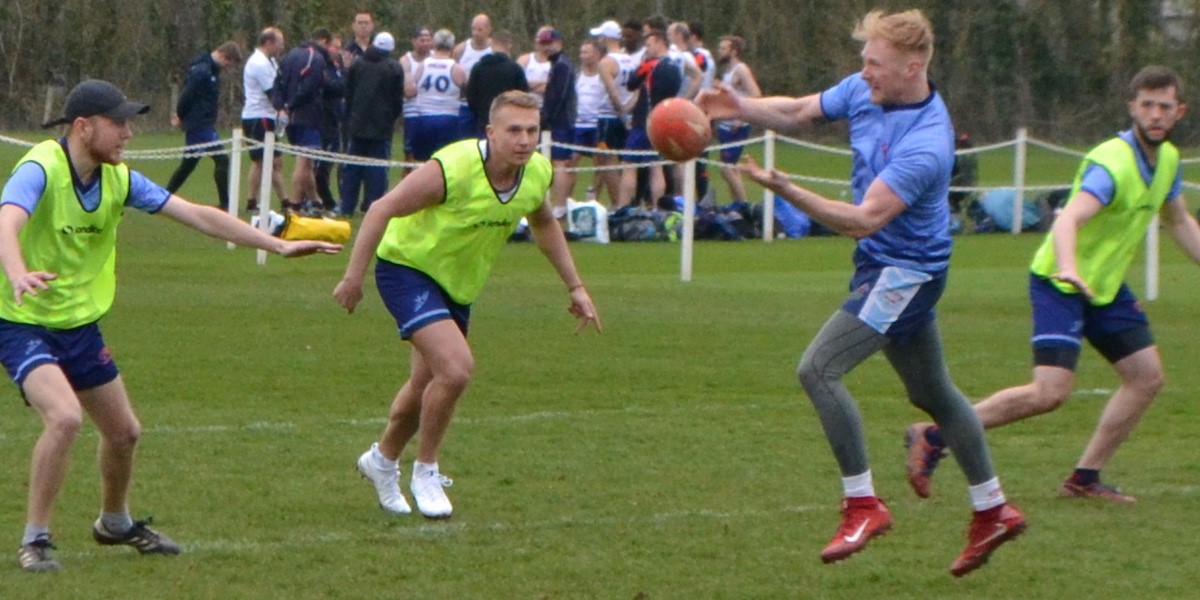 The High Performance Training Squads have been named for the 2019 Touch World Cup!
Selections into the squads were made following the completion of the 2018 Touch Nationals. There will be three training camps before Christmas, with a final selection camp in early January 2019.
Congratulations to all the players chosen!
Mark Aldous (Galaxy London), Ewan Armstrong (University – Exeter), Matthew Bate (Chester Cheetahs), Dominic Brook (University – Exeter), Teddy Brooks (University – Bath), Matt Davis (Canterbury), Nye Davis (University – Bath), Ben Geldart (Hot Custard), Angus Gough (Hot Custard), Tom Hall (CSSC), Clark Hobson (Bareback Riders), Max Howard (Canterbury), Josh Ingram (Wigan Touch Warriors), Hamish Jones (Hot Custard), Sam Jones (Thames Valley Vikings), Sam Lawton-Davis (Thames Valley Vikings), Oli Lee (London Scorpions), Rohan Lee (Thames Valley Vikings), Will Lupton (Nottingham), Dan Mayall (Canterbury), Matt Maynard (Cambridge), Oliver Maynard (Cambridge), Ben Meakin (Nottingham), Jordan Melling (Wigan Touch Warriors), Vaughn Meredith (Canterbury), Ryan Miemczyk (Bareback Riders), Sam Missin (Cambridge), Bradley Murphy (Cambridge), Miles Partridge (Galaxy London), Gabe Pennington (Wigan Touch Warriors), Toby Phillips (Manchester Chargers), James Plimsoll (Hot Custard), George Price (Crewe and Nantwich), Christian Scott (Thames Valley Vikings), Shane Scott (Galaxy London), Will Serocold (London Scorpions), Jack Strain (CSSC), Henry Stratford (CSSC), Dom Tripp (London Scorpions), Matt Watt (Galaxy London), Jon Weston-Stanley (Thames Valley Vikings), George Worboys (Bristol Fijians)
Train-on athletes
Jamie Ironside (Galaxy London), Jack Judd (CSSC), Evan Michaels (CSSC), Kamil Shahabdeen (Bristol Fijians)
Sophie Arbuthnott (London Scorpions), Georgia Blessed (Yorkshire Thorns), Victoria Chiu (London Scorpions), Emily Clews (Galaxy London), Rosamund Cormack (Cambridge), Emily Crowe (London Scorpions), Leah Cuthbertson (Hot Custard, Kate Davis-Bavin (Nottingham), Adeline Drut (Galaxy London), Eleana Ennes (University – Exeter), Naomi Fearnett (Hot Custard), Anna Goddard (Cambridge), Alissa Grant Walker (Bristol Fijians), Jade Grantham, Danni Gregory (Canterbury), Emily Haeger (University – Exeter), Alison Hogg (Bareback Riders), Susannah Hudson (London Scorpions), Emily Irons (London Scorpions), Pheobe Jay (Crewe and Nantwich), Rosie Kells (Bristol Fijians), Jenny Lee (Galaxy London), Sofia Luxton (Thames Valley Vikings), Megan Marchant (Nottingham), Orla McCallion (Percy Park Pirates), Charlotte McFarland (Thames Valley Vikings), Sadi Meakin (Nottingham), Lucy Norburn (Cambridge), Morgan Ogle (Manchester Chargers), Emma Oliver (Nottingham), Ayla Payten (Canterbury), Erin Payten (Canterbury), Caroline Pillman (Hot Custard), Olivia Rae (London Scorpions), Haniyyah Rahman-Shephard (Galaxy London), Charlotte Robinson (University – Exeter), Bronte Sykes, Lydia Ticehurst (Canterbury), Catherine Walker (Galaxy London)
Train-on athletes
Lizzie Dorey (Oxford), Megan Green (Cambridge), Ellie Pitcher (Nottingham), Anna Wilson (Cambridge)
Women's 27s
Laura Balfour (CSSC), Niki Bird (Galaxy London), Louise Carr (Thames Valley Vikings), Georgia Clancy (Galaxy London), Fae Clerey (Hot Custard), Stacey Collins (Galaxy London), Jamie Cone (Cambridge), Emilie Eve (Cambridge), Katy Fielding (G:Force Guildfordians), Victoria Franks (Cambridge), Sue-Ellen Godde (Cambridge), Kate Hyde (Nottingham), Katherine Jones (Cambridge), Lois Lau (CSSC), Nicola Marsh (CSSC), Alexandra Maskell (Cambridge), Lucy Neal-Hooke (Thames Valley Vikings), Zoe Parish (Nottingham), Sammie Phillips (Thames Valley Vikings), Keisha Raymond Blyth (CSSC), Claire Rylance (Oxford), Lucy Snape (Nottingham), Claire Traynor (CSSC), Catriona Weir (Hot Custard), Marnie Wills (Galaxy London)
Men's 30s
Joshua Angell (Tumeke), Nathan Bourke (Galaxy London), Stuart Bussell (Galaxy London), Alastair Chadwick (Manchester Chargers), Jonathan Clark (Yorkshire Thorns), David Dernie (Nottingham), William Gillett (G:Force Guildfordians), Ashley Grimsey (Horsham Tigers), Matthew Harper (G:Force Guildfordians), Steve Holland (Bristol Fijians), Samuel Hubbard (O2 Wellesbourne), Phillip Jackson (Tumeke), Richard Jones (Nottingham), Rich King (CSSC), Alex Krikorian (St Albans), Liam Lawton (Chester Cheetahs), Marcus Leong (Tumeke), Jason Limerick (Thames Valley Vikings), George Miller (CSSC), Matthew Myerson, Colin Scott (CSSC), David Scribbins (Percy Park), William Simpson (CSSC), James Stewart (Norwich Rebels), Liam Sturt (Horsham Tigers), Jason Waddell (CSSC), Gareth Weaver (South London), Daniel Wines (CSSC)
Mixed 30s
Dougie Benzie (Galaxy London), Kara Buckley (Bournemouth), Alastair Chadwick (Manchester Chargers), Meghan Clayton (Wigan Touch Warriors), Gregg Cropper (Manchester Chargers), Adam Evans (Warwick), Cathi Farrer (Bournemouth), Christopher Finn (Bristol Fijians), Victoria Gaskell (Nottingham), Joseph Hartley (Oxford), Neil Hennigan (Yorkshire Thorns), Steve Holland (Bristol Fijians), Glenn Jones (Cambridge), Julia Kang (Nottingham), Mark Knight (Bareback Riders), James Large, Kate Mackay (CSSC), Lindsay Morrison (Galaxy London), Samantha Powles (Oxford), Nollaig Quinn (Manchester Chargers), Mike Roa (Galaxy London), Sarah Rosenburg (Bristol Fijians), Oliver Sills (Cheltenham), Tamara Slater (Cambridge), James Stewart (Norwich Rebels), Hana Suzuki (Cambridge), Pamela Teager (Chester Cheetahs), Catherine Thompson (Cambridge), Byron Tibbitts (Bristol Fijians), Jessica Wheway, Martin Wright (Bristol Fijians)
Men's 35s
Campbell Allen (Oxford), Andrew Beattie (Manchester Chargers), Nicholas Best (Bournemouth), Stuart Block (Green and Gold), Aaron Chan (CSSC), Daniel Connolly, Ruez Durrani (Galaxy London), Andrew Hammond (Oxford), Dean Hancock (Cambridge), Nick Heath (CSSC), James Herd (G:Force Guildfordians), Amro Karim (Oxford), Peter Lee (Galaxy London), Dan Lewis (Cambridge), Eil Lim (Green and Gold), James Mallick (Oxford), Adam Marks (Banbury), Zhayne New (Galaxy London), Richard Nienaber (Hot Custard), Allan Noble (Bristol Fijians), Christian Prinsloo (G:Force Guildfordians), Paul Smuts (G:Force Guildfordians), Chris Wall (CSSC)
Train-ons - Mike Davis (Northampton COYS), Isaac Fong (Bournemouth), Clement Garcia (Norwich Rebels), Mark Glendenning (Bristol Fijians), Chris Winn
Women's 35s
Sarah Bellew (Manchester Chargers), Amy Caiger (CSSC), Celestine Cheong (Hot Custard), Julia Cole (Thames Valley Vikings), Claire Davis (O2 Wellesbourne), Teresa Dean-Lee, Aimee Findlay (Percy Park), Joelene Hughes, Kylie Hutchison (London Scorpions), Vikki Jackson (CSSC), Olivia Jones, Benita Lee (Galaxy London), Rebecca Maxwell (CSSC), Lesley McCallion (Percy Park), Danielle Powley-Williams (Thames Valley Vikings), Margaret Rees-Smith (Nottingham), Lucy Richardson (Thames Valley Vikings), Louise Rickard (Cambridge), Leanne Simm (Manchester Chargers), Sharise Wilkinson (London Scorpions), Elizabeth Williamson (Green and Gold), Suzanne Wilson (Canterbury)
Men's 40s
Neil Appleton (CSSC), Alastair Barnes (Thames Valley Vikings), Alex Berger (Brighton and Hove), James Berkley (Green and Gold), Joshua Bingley (Norwich Rebels), Steven Cleary (Cambridge), Matthew Hall (Nottingham), Andy Higson (Nottingham), Neil Irving (CSSC), Travis Kenny (Cambridge), Derek Kyte, Nicholas Matenga (Galaxy London), Kingsley Maunder, David Merrill, Brett Milligan (Green and Gold), Andy Penniceard (CSSC), Soul Phoenix (Nomads), Ken Pollard (Nottingham), Brian Sibthorp (G:Force Guildfordians), Jeff Sue (Galaxy London), Philip Walton (G:Force Guildfordians), Richard Willan (Nottingham), Erik Williams (Galaxy London), David Williamson (Green and Gold), Shane Wilson (Bournemouth), Simon Witton (Green and Gold)
Men's 45s
Paul Ainscough (Percy Park), John Banks (Percy Park), James Barnett, Simon Cooper (Norwich Rebels), Neil Davis, Keith Dunleavy (Green and Gold), Mark Eliott (Horsham Tigers), Eddie French (Canterbury), Christian Garland (Green and Gold), Iain Grisewood, Stephen Guder, Lance Hetherington, Mark Hobson (Nottingham), Luke Hudson (Bristol Fijians), Mark Jensen (O2 Ross on Wye), Gene MacDonald (Cambridge), Steven Madden (Green and Gold), Paul Nolan (Halton Storm), Spencer Nye (Canterbury), Theo Oberholzer (South London), Jonnie Pinder (Yorkshire Thorns), Brian Prebble (Thames Valley Vikings), Ian Rowberry, Tim Shields (Manchester Chargers), Ian Spencer, Lee Thompson (Thames Valley Vikings), Andy Verney, Adrian Williams (Catterick), Julian Wilson (Percy Park)
James Anderson (Manchester Chargers), Richard Barningham (Crewe and Nantwich), Oliver Brassington (Nottingham), Sam Clacher (Wandsworth), Keir Clark (Bristol Fijians), Harrison Cross (Wandsworth), Benjamin Dobson (Cambridge), Fergal Evans (O2 Maidenhead Mohawks), Nathan Grey (Rugby Barbearians), Ben Grinter (Chester Cheetahs), Henry Hardman (O2 London Scottish Red Lions), Will Heath (Northampton COYS), Josh Henderson (Thames Valley Vikings), Zac Hill (Nottingham), Ethan Hofton (Manchester Chargers), Connor Hughes (Canterbury), Cameron Keable (Northampton COYS), Tom Lawton-Davies (Thames Valley Vikings), Ben Le Noury (Nottingham), Angus Lister (Canterbury), Max Loveridge (Nottingham), Samuel Massie (O2 Didcot), Matthew Mayall (Canterbury), Matthew Maynard (Cambridge), Daniel McLaughlin (Cheltenham), Evan Michaels (CSSC), Samuel Missin (Cambridge), Iszak Moy (Nottingham), Bradley Murphy (Cambridge), William Murphy (Cambridge), Logan Noble (Peterborough), Ben Nurse (Crewe and Nantwich), Eliot Nye (Canterbury), Jed Oberholzer (Wandsworth), Max Penniceard (Wandsworth), Tom Penniceard (Wandsworth), Rory Pillar (Crewe and Nantwich), Edward Pizzey (Nottingham), Thomas Pollard (Nottingham), Niall Povall (Wigan Touch Warriors), Ellis Povey (Orrell St James), Rory Rees, Thomas Ritchings, Christian Scott (Thames Valley Vikings), Flynn Smith, Joseph Thompson (Lincoln), Samuel Thorpe (Manchester Chargers), Daniel Ticehurst (Canterbury), Jez Traynor, Oscar Trott (Nottingham), Isaac Turner (Nottingham), Hamish Waine, George Worboys (Bristol Fijians)
Train-ons Sam Grinter (Chester Cheetahs), Jack Hawken (Havering and Essex), Harry Missin (Cambridge), Jake Morris (Chester Cheetahs), Samuel Rideout (Chester Cheetahs), Sebastian Trigo De Castro (Cambridge)
Liberty Ashdown, Freya Aucken (O2 London Scottish Red Lions), Berrie-Blu Avery (Nottingham), Megan Begum Richards, May Burke (Warwick), Tamzin Corcoran (Orrell St James), Anna Crossley (Chester Cheetahs), Thea Dawson (Cambridge), Alana Gauntlett (Crewe and Nantwich), Megan Green (Cambridge), Amelia Grota (Peterborough), India Halsall (O2 Orrell RUFC), Isobel Hobson (Nottingham), Bex Holmes (Crewe and Nantwich), Ellie Lewis, Leah Lilley (Peterborough), Charlotte Lloyd (Nottingham), Sophie Lloyd (Nottingham), Ella Loveridge (Nottingham), Sophie MacMenamin (Wandsworth), Georgie Mascarenhas (Crewe and Nantwich), Hannah McLaughlin, Lucy Morriss (Crewe and Nantwich), Lily Moss (Nottingham), Flori Nasir (Canterbury), Iris Nasir (Canterbury), Lucy Norburn (Cambridge), Emma Oliver (Nottingham), Daisy Pank, Amelia Paton (Crewe and Nantwich), Isobel Penniceard (Wandsworth), Eve Pickup (Galaxy London), Maisie Pollard (Nottingham), Anna Reeves (Percy Park), Jessica Merve Richards, Ellen Scantlebury, Emily Simon (Nottingham), Phoebe Simon (Nottingham), Alice Summers (Canterbury), Izzy Thesiger (Galaxy London), Lydia Ticehurst (Canterbury), Hennessy Vine, Olivia Walker (Wandsworth), Mia Watts (Peterborough), Jessica Wright (Crewe and Nantwich)