England Teams 2018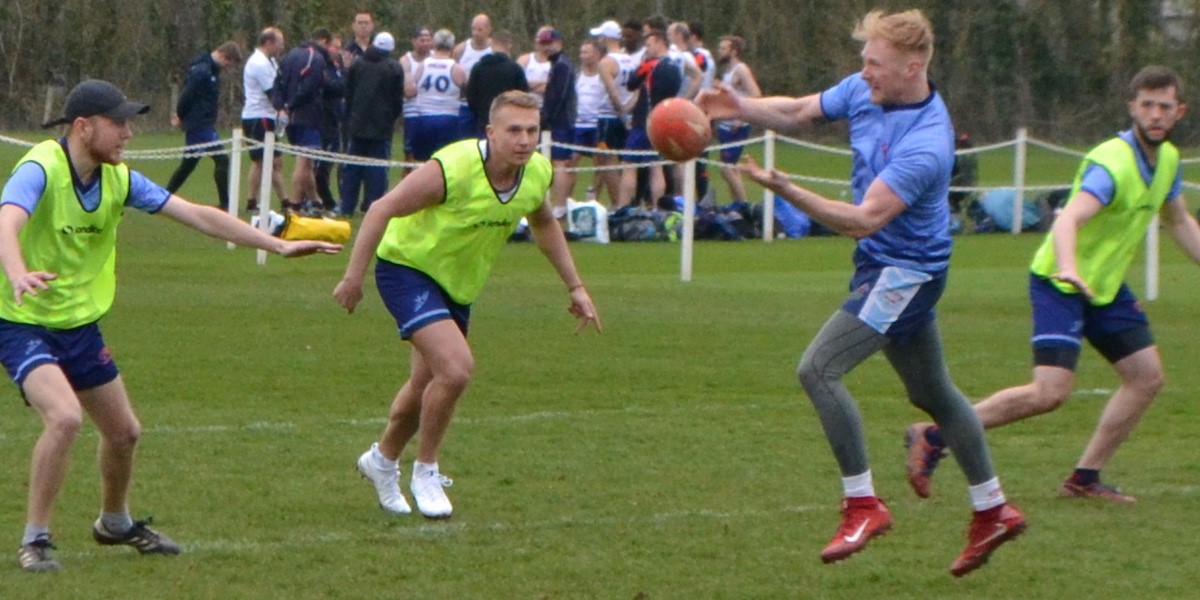 The England teams have been named for the 2018 European Touch Championships!
Selection this year was harder than ever, and there were plenty of tough decisions for the coaches to make.
The squads will take on their counterparts from across the continent in Nottingham between July 18th and 21st, 2018.
Congratulations to all the players chosen!
| | |
| --- | --- |
| Matthew Davis | Canterbury |
| Angus Gough | Hot Custard |
| Clark Hobson | Bareback Riders |
| Max Howard | Canterbury |
| Sam Jones | Thames Valley Vikings |
| Daniel Mayall | Canterbury |
| Ben Meakin | Nottingham |
| Jordan Melling | Wigan Touch Warriors |
| Vaughn Meredith | Canterbury |
| Ryan Miemczyk | Bareback Riders |
| Miles Partridge | London Galaxy |
| Gabe Pennington | Wigan Touch Warriors |
| Toby Phillips | Manchester Chargers |
| Will Serocold | London Scorpions |
| Dom Tripp | London Scorpions |
| Jon Weston-Stanley | Thames Valley Vikings |
| Non-Travelling Reserves |   |
| Chris Blandford | Bristol Fijians |
| Sam Lawton-Davies | Thames Valley Vikings |
| Alex Scott | London Scorpions |
|   |   |
| Coach | Tim Osborne |
| Asst  Coach | Martin Wright |
| Asst  Coach | Jeff Bimson |
| S&C | Aaron Green |
| Medical | Tom Sowter |
| | |
| --- | --- |
| Emily Clews | London Galaxy |
| Rosamund Cormack | Cambridge |
| Kate Davis-Bavin | Nottingham |
| Adeline Drut | London Galaxy |
| Anna Goddard | Cambridge |
| Alissa Grant-Walker | Bristol Fijians |
| Susannah Hudson | London Scorpions |
| Rosie Kells | Bristol Fijians |
| Jen Lee | London Galaxy |
| Sofia Luxton | Thames Valley Vikings |
| Sadi Meakin | Nottingham |
| Danni Payten | Canterbury |
| Caroline Pillman | Hot Custard |
| Lucy Norburn | Cambridge |
| Bronte Sykes | London Scorpions |
| Julia Unsworth | London Galaxy |
|   |   |
| Coach | Simon Clare |
| Asst  Coach | Jon Lovell |
| Asst  Coach | Jamie Cone |
| Team Manager | Leanne Kane |
| S&C | Aaron Green |
| Medical | Claire Lawson |
| | |
| --- | --- |
| Sophie Arbuthnott | London Scorpions |
| Ewan Armstrong | University of Exeter |
| Emily Crowe | Loughborough University |
| Leah Cuthbertson | Hot Custard |
| Nye Davis | University of Bath |
| Jade Grantham | Nottingham |
| Alison Hogg | Bareback Riders |
| Joshua Ingram | Wigan Touch Warriors |
| Hamish Jones | Hot Custard |
| Ollie Lee | London Scorpions |
| Charlotte McFarland | Thames Valley Vikings |
| Sam Missin | Cambridge |
| Ben Powell | Cambridge |
| George Price | Crewe and Nantwich |
| Olivia Rae | London Scorpions |
| Charlotte Robinson | University of Exeter |
| Shane Scott | London Galaxy |
| Kamil Shahabdeen | Bristol Fijians |
| Henry Stratford | CSSC |
|   |   |
| Coach | Justin Conway |
| Team Manager | Justin Missin |
| S&C | Aaron Green |
| Medical | Stephanie Dear |
| | |
| --- | --- |
| Nicolette Bird | London Galaxy |
| Louise Carr | Thames Valley Vikings |
| Stacey Collins | London Galaxy |
| Victoria Franks | Cambridge |
| Katherine Jones | Cambridge |
| Lois Lau | CSSC |
| Nicola Marsh | CSSC |
| Alexandra Maskell | Cambridge |
| Keisha McLean | CSSC |
| Lucy Neal-Hooke | Thames Valley Vikings |
| Zoe Parish | Nottingham |
| Samantha Phillips | Thames Valley Vikings |
| Lucy Snape | Nottingham |
| Claire Traynor | CSSC |
| Catriona Weir | Hot Custard |
| Marnie Wills | London Galaxy |
| Non-Travelling Reserves |   |
| Laura Balfour | CSSC |
| Kara Buckley | Bournemouth |
| Claire Rylance | Oxford |
|   |   |
| Coach | Gary Lambert |
| S&C | Joe Tricky |
| Medical | Adrian Sweeney |
| | |
| --- | --- |
| Stephen  Barry | Tumeke |
| Nathan Bourke | Thames Valley Vikings |
| Stuart Bussell | London Galaxy |
| Alastair Chadwick | Manchester Chargers |
| Oliver Francis | London Galaxy |
| Tom Hall | CSSC |
| Matthew Harper | G:Force |
| Dan Harrison | Thames Valley Vikings |
| Steve Holland | Bristol Fijians |
| Richard King | CSSC |
| Liam Lawton | Chester Cheetahs |
| Colin Scott | CSSC |
| William Simpson | CSSC |
| James Stewart | Norwich Rebels |
| Jason Waddell | CSSC |
| Dan Wines | CSSC |
| Non-Travelling Reserves |   |
| Ed Budge | CSSC |
| Dean Hancock | Cambridge |
| Eil Lim | Green and Gold |
| Jason Limerick | Thames Valley Vikings |
|   |   |
| Coach | Thomas Devereux |
| Asst  Coach | Matthew Watt |
| Asst  Coach | Mark Aldous |
| S&C | Joe Tricky |
| Medical | Danny Parkinson |
| | |
| --- | --- |
| Dougie Benzie | London Galaxy |
| Gregg Cropper | Manchester Chargers |
| Cathi Farrer | Bournemouth |
| Sue-Ellen Godde | Cambridge |
| Joe Hartley | Oxford |
| Tom Humphreys | Canterbury |
| Glenn Jones | Cambridge |
| Julia Kang | Nottingham |
| Mark Knight | Manchester Chargers |
| Nollaig Quinn | Manchester Chargers |
| Michael Roa | London Galaxy |
| Sarah Rosenburg | Bristol Fijians |
| Ollie Sills | Cheltenham |
| Tamara Slater | Cambridge |
| Byron Tibbitts | Bristol Fijians |
| Martin Wright | Bristol Fijians |
| Non-Travelling Reserves |   |
| Kara Buckley | Bournemouth |
|   |   |
| Coach | Martin Wright |
| S&C | Joe Tricky |
| Medical | Chris Gillespie |
| | |
| --- | --- |
| Sarah Bellew | Manchester Chargers |
| Katy Chalmers | Bristol Fijians |
| Celestine Cheong | Hot Custard |
| Julia Cole | Thames Valley Vikings |
| Teresa Dean-Lee | Other |
| Aimee Findlay | Percy Park |
| Joelene Hughes | Oxford |
| Kylie Hutchison | London Scorpions |
| Vikki Jackson | CSSC |
| Rebecca Maxwell | CSSC |
| Lesley McCallion | Percy Park |
| Danielle Powley-Williams | Thames Valley Vikings |
| Lucy Richardson | Thames Valley Vikings |
| Louise Rickard | Cambridge |
| Margaret Rees-Smith | Nottingham |
| Suzanne Wilson | Canterbury |
| Non-Travelling Reserves |   |
| Amy Caiger | CSSC |
| Vicky Gaskell | Nottingham |
| Victoria Jones | Chester Cheetahs |
| Rachel Tarr | O2 Minchampton |
|   |   |
| Coach | Ed Budge |
| Asst  Coach | Robin  Budd |
| Team Manager | Robin  Budd |
| S&C | Paul Tighe |
| Medical | Thea Jackson |
| | |
| --- | --- |
| Campbell Allen | Oxford |
| Andrew Beattie | Manchester Chargers |
| Nick Best | Bournemouth |
| Aaron Chan | CSSC |
| Daniel Connolly | Other |
| Ruez Durrani | London Galaxy |
| Andrew Hammond | Oxford |
| Nick Heath | CSSC |
| Alan Hubbleday | Other |
| Amro Karim | Oxford |
| Peter Lee | London Galaxy |
| Richard Nienaber | Hot Custard |
| Allan Noble | Bristol Fijians |
| Jon Perera | Cheltenham |
| Christian Prinsloo | G:Force |
| Christopher Wall | CSSC |
| Non-Travelling Reserves |   |
| Alastair Barnes | Thames Valley Vikings |
| Semisi Cocker | Hit n Run |
| Ben Dickson | Hot Custard |
| Matt Mahoney | Other |
|   |   |
| Coach | Jason Logan |
| S&C | Paul Tighe |
| Medical | Chloe Lockley |
| | |
| --- | --- |
| Neil Appleton | CSSC |
| Alex Berger | Horsham Tigers |
| James Berkley | Green and Gold |
| Dale Bright | Green and Gold |
| Gino Geracitano | Bristol Fijians |
| Matthew Hall | Nottingham |
| Travis Kenny | Cambridge |
| Bruce Kirby | Bristol Fijians |
| Jon Lovell | Cambridge |
| David Merrill |   |
| Brett Milligan | Green and Gold |
| Jeff Sue | London Galaxy |
| Richard Willan | Nottingham |
| Erik Williams | London Galaxy |
| David Williamson | Green and Gold |
| Simon Witton | Green and Gold |
| Non-Travelling Reserves |   |
| Christian Garland | Green and Gold |
| Neil Irving | CSSC |
| Kingsley Maunder | Other |
| Andy Penniceard | CSSC |
|   |   |
| Coach | Travis Kenny |
| Team Manager | Nicci Kenny |
| S&C | Paul Tighe |
| Medical | Tom Astley |
| | |
| --- | --- |
| John Banks | Percy Park |
| James Barnett | Other |
| Christopher Davies | Other |
| Keith Dunleavy | Green and Gold |
| Iain Grisewood | Other |
| Lance Hetherington | Other |
| Mark Hobson | Nottingham |
| Mark Jensen | O2 Ross on Wye |
| Steven Madden | Green and Gold |
| Ian Moody | Percy Park |
| Paul Nolan | Halton Storm |
| Theo Oberholzer | South London |
| Ian Rowberry | Other |
| Lee Thompson | Thames Valley Vikings |
| Andrew Verney | Other |
| Julian Wilson | Percy Park |
| Non-Travelling Reserves |   |
| Stephan Guder | London Galaxy |
| Gene MacDonald | Cambridge |
| Mark Scott | Other |
| Tim Shields | Manchester Chargers |
| Ian Spencer | Other |
|   |   |
| Coach | Jo Whitehead |
| Asst  Coach | Paul Ainscough |
| Asst  Coach | Marc Boyd |
| Team Manager | Anthony Riley |
| S&C | Mark Thomas |
| Medical | Amber Griffiths |